'Cosmopolitan' accuses Victoria's Secret of "racist lingerie" — then deletes the article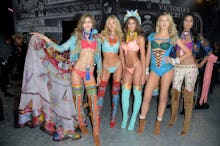 During one segment of the highly-anticipated 2016 Victoria's Secret Fashion Show, which will air on Monday night, model Elsa Hosk strutted down the runway wrapped in a large Chinese dragon, model Taylor Hill walked wearing a kimono and tassles and Adriana Lima walked in boots that were vaguely Asian-inspired with tassles as well, with wings that looked much the same. 
This particular segment, called "The Road Ahead," was meant to celebrate multiculturalism and the blending of cultures. As Nepalese jewelry designer Arpana Rayamajhi, who worked on the VS show this year, said: "The idea is that you're blending in little bits of this and that from all cultures around the world." 
But to one writer at Cosmopolitan, it all just looked plain racist. 
On Wednesday, as images started leaking online from the VS runway, Cosmo's executive lifestyle editor Helin Jung wrote an op-ed titled, "Why Can't Victoria's Secret Stop Designing Racist Lingerie?"
In it, she slams the fashion show for "cultural appropriation" by "a sexist, patriarchal, mostly white corporation [that] continues to take what it wants for its own gain." 
"Stripping of cultures aside, the emblems that stood out most were the ones that came from Asia — specifically China," Jung wrote. "The dragon that Elsa Hosk wore wrapped around her body, the embroidered stiletto boots seen on Adriana Lima, the tail made of flames worn by Kendall Jenner." 
To Jung, those kinds of pieces felt more like a cheap interpretation than a high-quality, respectful celebration. 
"The Orientalism on display here doesn't show an understanding or an attempt at dialogue. It doesn't close any gaps," Jung continued. "What condescension, for Victoria's Secret to think that by wrapping a model in a dragon, it could connect directly with a new consumer in China." 
It was particularly insulting to Jung too because this show made history for having a record number of Chinese models (four this time), and yet this was the year when Chinese culture was most imitated. This also wouldn't be the first time the VS Fashion Show has been called out for cultural appropriation, with people being not-so-stoked about Karlie Kloss wearing a Native American-inspired headdress on the runway in 2012. 
However, by Friday, quite strangely, the article had been deleted from Cosmo's website in its entirety. (Mic was able to access it through a cached version.) Click on the original link to the story, and you're reverted to an error page with an awestruck kitten. 
So what gives? Did Victoria's Secret contact Cosmo and demand it take the article down? Did Hearst, the publication company that publishes Cosmo, pull the plug itself, fearing that it'd lose any chance of working with VS ever again for advertisements or anything else? Did Cosmo delete it after the onslaught of pieces that questioned Jung's own piece? 
In any case, although Jung's own piece may have seemed extreme to some, she has every right to think that Jenner wearing Asian-inspired boots and Elsa Hosk wearing a dragon wasn't nearly as cliché-free a display of multiculturalism as VS could have achieved. 
Mic has reached out to Cosmopolitan directly to get some answers.