Paul Ryan slams Dakota Pipeline decision: "Big-government decision-making at its worst"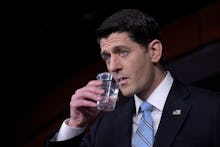 Less than 24-hours after the historic announcement that the United States Army Corps of Engineers was effectively halting plans to construct the Dakota Access Pipeline under Lake Oahe in favor of finding "alternate routes," House Speaker Paul Ryan slammed the decision on Twitter, calling it "big-government decision-making at its worst." He continued, "I look forward to putting this anti-energy presidency behind us."
Activists had been working against the pipeline's construction for months, over concerns that the planned pipeline, which would have moved around 470,000 barrels of oil a day, could contaminate water sources and would disrupt the sacred land belonging to the Standing Rock Sioux.
By the time of Sunday's announcement that pipeline construction would be halted and alternatives would be explored, thousands of Indigenous activists and allies, including groups of military veterans, had gathered to fight plans for the pipeline, camping out in below-freezing weather.
In a statement on Sunday, Standing Rock Sioux Tribal Chairman Dave Archambault II said "We wholeheartedly support the decision of the administration and commend with the utmost gratitude the courage it took on the part of President Obama, the Army Corps, the Department of Justice and the Department of the Interior to take steps to correct the course of history and do the right thing."
But Ryan's tweet frames Sunday's news not as a victory of a group of marginalized people over an environmental threat to their homes, but as evidence that "big government" was "anti-energy" in delaying the construction of the pipeline. And his implication that these policies will soon be "behind us" is a worrisome indication for activists that victories achieved this weekend could soon be undone by a Trump administration.