Dylann Roof wants his lawyers back for Charleston church massacre trial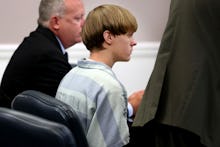 Dylann Roof has changed his mind about representing himself for at least part of his upcoming federal trial in Charleston, South Carolina, where he faces the death penalty for gunning down nine black churchgoers in 2015. 
On Monday, a federal judge ruled 22-year-old Roof, who faces federal hate crimes charges for his June 2015 attack on parishioners at Emanuel African Methodist Church, may once more have his legal team represent him during the guilt portion of his capital murder trial. 
Roof will represent himself during the sentencing phase, however, in accordance with a handwritten request he submitted to Judge Richard M. Gergel over the weekend. 
"I would like to ask if my lawyers can represent me for the guilt phase of the trial only," Roof wrote. "Can you let me have them back for the guilt phase, and then let me represent myself for the sentencing phase of the trial? If you would allow that, then that is what I would like to do."
The request comes within weeks of Gergel finding Roof competent to stand trial, and just one week after the defendant petitioned to represent himself. 
Roof, who has declared his attack on the church was motivated by white nationalist ideology and racial hatred, was previously warned by the judge that it would be "strategically unwise" to represent himself. He has continued to rely on his defense team as legal advisors. Some experts have speculated the defendant's initial request not to have a lawyer was an attempt to secure "death by jury." 
"Sometimes when people self-represent, whether it's a death penalty case or not, they just lay down," Chris Adams, an Charleston criminal defense attorney said in a November interview with Mic's Aaron Morrison. "They don't ask any questions or make objections."
It remains unclear whether that will be Roof's plan for the sentencing portion of the trial, when he will have sole control over the evidence presented to the jury before it decides between giving him the death penalty and life in prison without parole.