Who is Spencer Wilding? 7 things to know about the 'Rogue One' Darth Vader actor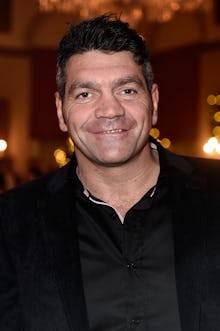 The Sith Lord will be back for Rogue One: A Star Wars Story, the first-ever standalone film in the franchise, when it hits theaters Dec. 16. Here are seven things to know about Spencer Wilding, the character actor who will be playing the role — at least under the unforgettable Darth Vader suit.
1. He's 6'7"
Wilding's height puts him an inch taller than David Prowse, who played Darth Vader in the original Star Wars trilogy.
2. He's from a tiny Welsh town 
It's called Rhyl and it's located in North Wales. Surprisingly, there's another Jedi from Rhyl. Kevin Cottam, an ordinary man with no professional connection to the Star Wars franchise, lives in Rhyl as well. He has gained attention (not always kind) for wearing full-length robes and carrying a light saber wherever he goes.
3. He's a kickboxing champion
Before Wilding became an actor, he made a name for himself as a kickboxer. He even became the face of a British anti-bullying nonprofit because of it.
4. He brands himself as a 'special creature performer'
On his acting website, Wilding describes himself as a "specialist in creating memorable creature performances for some of the biggest movies around." According to IMBD, he's best known for his roles in Guardians of the Galaxy (Mean Guard), Batman Begins (League of Shadows Warrior), and Beowulf & Grendel (Grendel's Father.) 
5. He played Hagrid's double
In fact, Wilding has quite the under-the-radar Harry Potter history. "I was in three of the Harry Potter films in all," he told the UK's Mirror. "I was Hagrid's double in Harry Potter and the Order of the Phoenix and a Knight of the Temple in Harry Potter and the Deathly Hallows - Part 1, but not many people know that."
6. He's also appeared on Doctor Who
Wilding has acted in three Matt Smith-era Doctor Who episodes. He played a minotaur in "The Gold Complex"; the wooden king in "The Doctor, The Widow And The Wardrobe"; and ice warrior Skaldak in "Cold War." 
7. His lines will be dubbed by James Earl Jones.
Wilding will not have a speaking role as Darth Vader. Though FlickeringMyth.com has reported him running lines on set, Wilding's voice will be dubbed over by the original voice of Darth Vader—James Earl Jones. In an interview with the American Film Institute, Jones explained that George Lucas initially thought Prowse would voice Darth Vader. Lucas ultimately opted for Jones because of his "darker" voice. He was paid $7,000 for the voicing gig in the first film. 
Mic has ongoing Star Wars coverage. Please follow our main Star Wars hub.