'Ink Master' season 8 finalist Ryan Ashley reveals struggles of female tattoo artists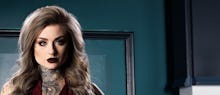 The Ink Master season eight finale airs live Tuesday on Spike, and the stakes are higher than usual. Only three artists remain in the competition, and each wants the $100,000 grand prize and title of "Ink Master" — but this year the winner may also have the title of first female "Ink Master."
Ryan Ashley Malarkey and Kelly Doty are two of the three final contestants. Although Ryan has competed on Team Oliver Peck all season, and Kelly on Team Chris Nunez, the battle is much bigger than which judge will come out on top. If Ryan or Kelly beat Gian Karle Cruz, then they will become the first female winner in the history of the series.
In the eight seasons that have been on the air, only two other female competitors have made it to the finale: Sarah Miller in season two and Tatu Baby in season three. The finale could be a big moment for female tattoo artists, who have had to prove themselves in a predominantly male-dominated industry.
"[The industry] is not what it used to be in terms of discrimination or inequality," Ryan said to Mic ahead of the live finale. "But there are still things that we go through as women that the guys don't understand because they don't go through them."
Ryan, 29, said female tattoo artists are expected to look and act a certain way. A good example of some of the struggles they face was seen in an on-screen fight earlier this season between competitors Nikki Simpson and Boneface. Nikki and Boneface were arguing about another artist's work when Boneface attacked Nikki's appearance. 
"If Nikki was a man, or it was two men fighting, that would never even be a factor in an argument," Ryan said of the heated exchange. "But because Nikki is a woman, he immediately went for what would hurt her the most, which was her physical appearance."
"That's what happens in the tattoo industry," Ryan said, "because us as women are expected to be these awesome tattooers, but there is also this underlying expectation for us that we have to look a certain way. We have to act a certain way, and all those expectations aren't always placed on guys. Who cares about what a guy tattooer looks like? Nobody gives a shit about that. But as a woman tattooer how we look and how we present ourselves is a factor in our quality of artwork for some reason, and that's where the inequality comes in."
Ink Master's season eight finale airs live at 10 p.m. Eastern on Tuesday on Spike.