Sex and porn addiction may not be a legitimate illness, scientists say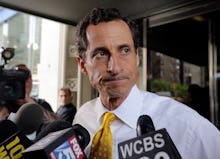 When politician Anthony Weiner was caught sending lewd text messages to young women, for the third time — in this instance a teenage girl — plenty of people were eager to chalk up his misdeeds to addiction. After all, the congressman was putting not only his reputation on the line but his marriage to Huma Abedin, Hillary Clinton's top aide, by sending the sexually explicit messages. Maybe he couldn't help himself. 
But last week brought bad news for anyone offering any sympathy to Weiner on the basis of an alleged mental illness: According to the experts at the American Association of Sexuality Educators, Counselors and Therapists, such a disorder may not exist.
"AASECT recognizes that people may experience significant physical, psychological, spiritual and sexual health consequences related to their sexual urges, thoughts or behaviors," the association said in a statement posted to Facebook on Dec. 1. "AASECT recommends that its members utilize models that do not unduly pathologize consensual sexual problems."
The message went on to state that the organization could not supply "sufficient empirical evidence" that suggests sex or porn addiction qualifies as a mental health disorder. Any treatment of them as such, they said, lacks a certain awareness of how human sexuality functions.
"AASECT advocates for a collaborative movement to establish standards of care supported by science, public health consensus and the rigorous protection of sexual rights for consumers seeking treatment for problems related to consensual sexual urges, thoughts or behaviors," they wrote.
Not everyone has bought the "sex addiction" defense. As EJ Dickson wrote for Mic in September, the problem for someone like Weiner seemed less a medical one and more a societal one.
"Of course, Weiner isn't really sick at all — unless you consider white male entitlement a disease," Dickson wrote in September:
In its purest form, white male entitlement, or the idea that white men in our culture deserve everything short of a free Ferrari simply by virtue of their skin color and genitalia, is a condition that allows men to continuously commit egregious violations against marginalized people, primarily women and people of color.
Weiner's affliction then — if you could call privilege an affliction — had been the same as Brock Turner's or Owen Labrie's, or that of any man who had used his place in society to oppress other people.
Clinical psychologist David Ley told New York magazine in August that classifying Weiner's indiscretions as an illness "ignores the fact that sex is always a complex, overdetermined behavior and that sex is often used by men to cope with negative feelings."
"Is Weiner getting the help he needs in his career, personal life and relationship?" Ley asked. "Does he have other ways to try to make himself feel attractive and valued? Those are the questions that this latest incident raises. Sadly, calling him a sex addict ignores all of these much more important concerns."