Dakota Access pipeline activists set their sights on the Flint water crisis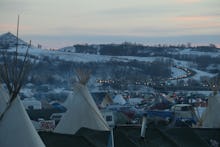 With their fight at the Standing Rock Indian Reservation seemingly won, at least for now, Dakota Access Pipeline protesters will refocus their efforts elsewhere — on Flint, Michigan. As MLive reported, the activists plan to take on the city's ongoing water crisis. 
"This problem is all over the county," Wes Clark Jr., a veteran of the U.S. Army, told MLive. Clark was one of the nearly 2,000-strong group, Veterans Stand for Standing Rock, that formed a first line of protection at the Oceti Sakowin Camp in North Dakota over the weekend. 
"It's got to be more than veterans," Clark said. "People have been treated wrong in this county for a long time."
The U.S. Army Corps of Engineers announced Sunday afternoon that it had denied the permit for the Dakota Access Pipeline to continue construction along its previously projected route, which would've taken the 1,172-mile pipeline under Lake Oahe. That, protesters argued, would have contaminated the Missouri River as a water source, while also disturbing the sacred tribal lands of the Standing Rock Sioux. 
The demonstration against the pipeline's construction has been going on for months, with clashes between peaceful protesters and the police frequently turning violent. 
The Flint water crisis, meanwhile, stretches back over two years. The city was supposed to start sourcing water from Lake Huron in 2013, rather than purchasing it from Detroit, but doing so required the construction of a pipeline. Detroit cut off Flint's water supply ahead of schedule, forcing the city to look to the Flint River, the waters of which corroded the lead pipes that brought it to residents. As a result, the water that people were drinking was not only poisoned, but also rife with disease-causing bacteria. 
Despite the fact that people were developing rashes and illnesses from the brown water coming out of their taps, it wasn't until January 2016 that Flint declared a state of emergency. President Barack Obama followed suit in January as well. And yet, progress has been slow — residents still don't have easy access to potable drinking water and still fall victim to water-borne bacterial disease. 
Veterans and activists do not know exactly when they'll head to Flint and many have vowed to stay until the Standing Rock Sioux ask them to leave. But they're hoping that their presence in Flint can call media attention to the crisis and force meaningful action in the same way their presence did in North Dakota.
"I feel that by the veterans coming out and leading up to it all the media attention," Arthur Woodson, a Flint resident and DAPL protester, told MLive. "All the media attention that was there brought more attention to Standing Rock. The government had a change of heart."