Standing Rock News: Latest updates from the Dakota Access pipeline protest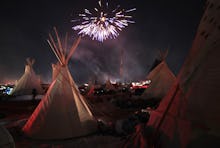 After months of protests, the Standing Rock Sioux tribe and other Dakota Access pipeline activists received a major win last night, as the United States Army Corps of Engineers effectively halted construction of the pipeline at Standing Rock. It's clear, however, that the fight still isn't over yet.
In a statement, Energy Transfer Partners, the company behind the pipeline's development, announced their commitment to continuing construction on the pipeline, saying: 
The White House's directive today to the Corps for further delay is just the latest in a series of overt and transparent political actions by an administration which has abandoned the rule of law in favor of currying favor with a narrow and extreme political constituency.
These sentiments were echoed by North Dakota Republican congressman Kevin Cramer, who published his own statement in response to the U.S. Army Corps' directive. Cramer said: 
I hoped even a lawless president wouldn't continue to ignore the rule of law. However, it was becoming increasingly clear he was punting this issue down the road.  Today's unfortunate decision sends a very chilling signal to others who want to build infrastructure in this country. Roads, bridges, transmission lines, pipelines, wind farms and water lines will be very difficult, if not impossible, to build when criminal behavior is rewarded this way.
While Sunday's decision was undoubtedly a victory for the protesters and the Standing Rock Sioux, the possibility still remains that President-elect Trump — who may or may not have investments in both Energy Transfer Partners and Phillips 66, the owner of a quarter of the Dakota Access pipeline — will reverse the decision once in office.
Time Warner Cable News reported that members of the Seneca Nation in Buffalo, New York, will stand in solidarity, with two peace walks today, at which they will collect donations for the protestors at Standing Rock.
Many who have been protesting at Standing Rock will still remain there, in light of the uncertainty that still remains. Though the government had given the protestors until today to leave the site, authorities have said that they will not enforce the deadline.
"The whole world is watching," Miles Allard, a member of the Standing Rock Sioux, told ABC News. "I'm telling all our people to stand up and not to leave until this is over."
"We have to keep going," said Tom Shaving, a member of the Cheyenne River tribe, to NPR. "We have to persevere. Trump's right next in line."
Veterans who came to the aid of Standing Rock protesters have declared that they will next focus their attention on the water crisis in Flint, Michigan. ABC News noted, that some veterans will also take part in a prayer meeting Monday with the protesting indigenous people, during which they'll apologize for the historic mistreatment of indigenous people by the U.S. military — and ask for their forgiveness.