Dakota Access pipeline company says it is "fully committed" to seeing project through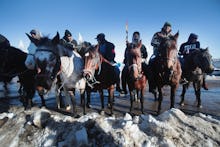 While indigenous activists and their allies celebrated Sunday's news that the Army Corps of Engineers would effectively halt construction of the Dakota Access Pipeline and search for "alternate routes," the company isn't happy about the news — and it's not backing down.
In a statement released on Sunday night, Energy Transfer Partners and Sunoco Logistics Partners, the companies behind the planned pipeline, slammed the decision as "a purely political action" and reiterated that it is "fully committed to ensuring that this vital project is brought to completion and fully expect to complete construction of the pipeline without any additional rerouting in and around Lake Oahe."
The Standing Rock Sioux tribe and their allies have been fighting against the pipeline's construction for months, over concerns that the pipeline, which would move around 470,000 barrels of oil a day, would contaminate water sources and destroy sacred ancestral land. By Sunday, thousands of people had gathered, including hundreds of military veterans, and were camping at the protest sites even as temperatures dropped below freezing.
In the statement released Sunday night, the companies behind the construction of the pipeline claimed that "For more than three years now, Dakota Access Pipeline has done nothing but play by the rules." It also skewered the Obama administration for appealing to an "extreme" constituency.
The White House's directive today to the Corps for further delay is just the latest in a series of overt and transparent political actions by an administration which has abandoned the rule of law in favor of currying favor with a narrow and extreme political constituency.
Backing-up the fears that many activists have that the fight is far from over, the statement said, in no uncertain terms, that the companies intended to move forward with the pipeline exactly as it was planned, and added "Nothing this administration has done today changes that in any way."