5 things to know about Ben Carson, Trump's HUD secretary pick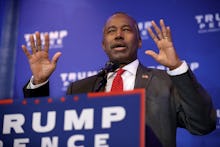 On Nov. 15, Armstrong Williams, business manager and close friend to former GOP presidential candidate Ben Carson, told the Hill that Carson would not join the Trump administration because he "feels he has no government experience, he's never run a federal agency." Williams added that "the last thing [Carson] would want to do was take a position that could cripple the presidency." 
But the self-proclaimed soft-spoken neurosurgeon had a change of heart after President-elect Donald Trump nominated him for secretary of the U.S. Department of Housing and Urban Development. On Monday, Carson tweeted "I am honored to accept the opportunity to serve our country in the Trump administration."
Who is Ben Carson? Here are some facts you need to know.
1. He once called fair housing "socialism."
Recently, Carson criticized a Department of Housing rule called Affirmatively Furthering Fair Housing — or AFFH — a measure that shores up the efforts of the Fair Housing Act, such as eliminating barriers that pose a hurdle for disadvantaged communities to attain homeownership. In a 2015 column for the Washington Times titled "Experimenting with failed socialism again," Carson said that AFFH is designed to "desegregate housing by withholding funds from communities that fail to demonstrate their projects 'affirmatively further' fair housing." He added that "based on the history of failed socialist experiments in this country, entrusting the government to get [housing policy] right can prove downright dangerous."    
2. Trump has not always been a fan of Carson.
Monday, Trump shared the big news on Twitter: "I am thrilled to nominate Dr. @RealBenCarson as our next Secretary of the US Dept. of Housing and Development." 
In a Facebook post, Trump continued to shower Carson with praises. "Ben Carson has a brilliant mind and is passionate about strengthening communities and families within those communities. We have talked at length about my urban renewal agenda and our message of economic revival, very much including our inner cities. ... He is a tough competitor and never gives up." The post also provided a rundown of Carson's accomplishments. 
But Trump has not always shown appreciation for Carson. Jezebel provided a comprehensive list of tweets in which Trump attacked his then-GOP primary rival. He once said that "Ben Carson has never created a job in his life (well maybe a nurse). I have created tens of thousands of jobs, it's what I do."
Trump's also tweeted about Ben Carson's supposed assaults: "The Carson story is either a total fabrication or, if true, even worse-trying to hit mother over the head with a hammer or stabbing friend!"
As Jezebel writer Anna Merlan concluded in her article, "a hearty congratulations to these two special friends and their plans to make America...whatever it is they have in mind." 
3. He has never held or run for public office.
Like President-elect Trump, Carson does not have a political background. But as NPR reported in 2015, this was not a deterrent for many conservatives who considered him a "darling among certain segments...particularly those who tilt toward the Tea Party." During the GOP primary race, he outpaced seasoned politicians in many polls, including New Jersey Gov. Chris Christie. 
4. He used to hold no political affiliation. 
According to the Randolph County Herald Tribune, Carson was a self-proclaimed Independent during the 1990s, but he has turned out to be a staunch conservative in recent years. He supports free market principles, is pro-life and does not believe in free college, to name a few of his more right-wing-affiliated stances. 
5. Carson had a knack for Nazi metaphors.
In 2015, Meet the Press host Chuck Todd confronted Carson for his recurrent use of Nazi comparisons when referring to President Obama's policies. "Why do you so easily go to Nazi metaphors?" Todd asked Carson. "When you were talking about health care, you referred to a Gestapo. A lot of time, the minute you talk about the Nazis, the minute you talk about the Holocaust, people stop listening."  
As ThinkProgress reported, Carson believed that Nazi-like forces could take place in the United States: 
If you go back and look at the history of the world, tyranny and despotism and how it starts, it has a lot to do with control of thought and control of speech. 
Though Carson might have been referring to President Obama in this case, the recent nomination of Steve Bannon as Trump's White House chief strategist —let alone Trump's animosity toward the press — has made his remarks more prescient than ever.