When will 'Luke Cage' season 2 be released on Netflix?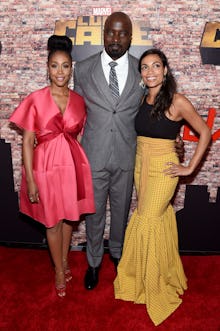 Netflix is continuing the Luke Cage saga by renewing the Marvel Universe show for a second season. The popular streaming service made the announcement on Facebook and Twitter on Dec. 4. What it did not reveal was an actual air date. The social media accounts simply state that season two will be "coming soon."
Since we don't know Luke Cage's season two air date just yet, we can speculate when it will come out based on the timelines set by other Netflix Marvel shows.
The release date for season one of the comic book adaptation was Sept. 30 of this year. Luke Cage is the third Netflix Marvel drama, with Daredevil and Jessica Jones serving as predecessors. The fourth, Iron Fist, and fifth, The Defenders, are due out in 2017. 
While on the Television Critics Association press tour earlier this year, Netflix's chief content editor Ted Sarandos stated that Marvel shows are on a current two-per-year schedule. Since season two of Daredevil and season one of Luke Cage came out this year, Netflix has met its Marvel quota for 2016. Iron Fist and The Defenders are slated for 2017. 
By that logic, it seems reasonable to think season two of Jessica Jones and season two of Luke Cage will be released in 2018. That would mean another advance in the comic book adaptation business for focusing on female and black protagonists.
Prior to Luke Cage, star Mike Colter was known for his roles in The Good Wife and The Following. USA Today called Luke Cage Marvel's best TV series, stating that "the success of the show firmly rests on the burly shoulders of Colter ... who comes into his own as a bona fide star."
Though, once we've binge-watched season one, we might not see those "burly shoulders" again until 2018.