Trump and 'SNL': 6 times the show perfectly skewered the president-elect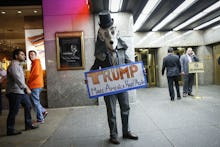 Saturday Night Live became the focus of Donald Trump's Twitter ire once again Sunday, as the president-elect openly tweeted his complaints about a sketch that — ironically — took down Trump's twitter habits. 
This, of course, is not the first time Trump's been the topic of ridicule on the long-running comedy show, whose continued focus on the president-elect began in the primaries, when Trump himself even hosted the show. And while that episode may have cast the businessman-turned-politician in a more flattering light, many of the show's Trump portrayals — particularly those by current Trump impressionist Alec Baldwin — have not been quite so kind.
Here are just six of the times that SNL has taken on Trump since he announced his candidacy:
Donald and Melania Trump
In this sketch from October 2015, Taran Killam plays Trump in a sit-down with wife Melania where they complain about some of the criticisms leveled against Trump, from his treatment of women and views on immigration, to his Democratic past. 
Voters for Trump ad
Not all of SNL's Trump takedowns have involved the man himself. In this "Voters for Trump" ad from March 2016, SNL skewers Trump's base of supporters who claim the candidate is "good for business" ...while racist motivations lie underneath.
VP debate
To mark Trump's infamous "grab them by the pussy" remarks, SNL interrupted a sketch on the Vice Presidential debate with Alec Baldwin as Trump, who appeared on CNN with Cecily Strong to "ap-alogize" (not to be confused with "apologize") for his actions and offer a message to women voters: "If you give me a chance, I promise — I can do a whole lot more than just 'grab it.'"
Donald Trump vs. Hillary Clinton town hall debate
SNL's Oct. 15 show was the first that drew Trump's attention on Twitter, and with the show's cold open on his and Clinton's town hall debate, it's easy to see why. The sketch skewers Trump's treatment of women and bizarre mannerisms as usual, but also takes on Trump's repeated skulking behind Clinton as she spoke — complete with the theme song from Jaws.
Melanianade
In this digital short from the same show, the attention turned to the women in Trump's life — plus Vice President-elect Mike Pence — who unleashed their frustrations with the then-candidate in a tribute to Beyonce's Lemonade. "Without us you wouldn't be standing there," they sing. "You'd just be the guy with the weird hair."
Donald Trump prepares
In Trump's first cold open sketch after the election (following Kate McKinnon's moving performance of "Hallelujah" the week before), SNL took on Trump's first steps towards preparing for the presidency. First up: "Google: What is ISIS?"
These sketches may make Trump's blood boil, but Baldwin has offered an easy solution: