'Uncharted 4: The Lost Legacy' trailer, release date, gameplay, price and everything else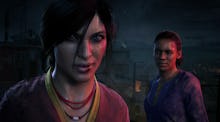 On Saturday at PlayStation Experience, Sony unveiled a brand new standalone expansion for Uncharted 4 called The Lost Legacy, starring Chloe Frazer and Nadine Ross. Like Naughty Dog's expansion for The Last of Us called Left Behind, The Lost Legacy doesn't necessarily link up directly to the events of the main game. Instead, it exists alongside them.
If you're new to the Uncharted franchise, you might be wondering exactly who its playable protagonist, Chloe, is. Don't fret! Read on for some background on her and Nadine, in case you need a refresher.
Uncharted 4: The Lost Legacy trailer, release date and price for PS4
If you have yet to see the trailer yourself, it's embedded below.
Naughty Dog hasn't announced an official release date or price yet, saying only that it will be available digitally and in retail stores in 2017.
Uncharted 4: The Lost Legacy: Who are Chloe Frazer and Nadine Ross?
If Uncharted 4 was the first Uncharted game you ever played, you're probably a bit confused as to who Chloe Frazer is. She's a major character who first appears in Uncharted 2: Among Thieves and later in Uncharted 3: Drake's Deception. She's a long-time acquaintance of Nathan Drake who has tumultuous, ever-shifting loyalties depending on the circumstances. Like Nate, Chloe is a highly skilled treasure hunter, but she's more willing to cross moral boundaries and betray those around her to serve her own interests.
She has a brash, sexually forward and witty sense of humor, which you can see in the video below that compiles a number of her cutscenes from Uncharted 2.
She does not appear in the main storyline of Uncharted 4: A Thief's End, but she is a playable character in Uncharted 4's multiplayer mode, which you can see below.
In The Lost Legacy, Chloe teams up with Nadine Ross, a character who first appeared in Uncharted 4. On The Lost Legacy's official site, Naughty Dog describes Nadine as "a skilled tactician, whose cool, calculating nature offers an important contrast to Chloe's improvisation and wit." 
Nadine is the leader of Shoreline, the mercenary organization hired by Uncharted 4's villain, Rafe, in his quest to discover the lost city of Libertalia. She also kicks Nate's ass on the regular as you can see in the clip from Uncharted 4 below.
Though it seems like Chloe will be the only playable character in The Lost Legacy, these two kickass women make for an intriguing pair. As soon as Naughty Dog releases more information, we'll let you know.
More video game news, updates, guides, tips and tricks:
If you're ready for more video game news, check out the latest from Mic, including some leaked information about a rumored holiday-themed Overwatch event, the latest on Pokémon Go, all the hidden details from the new Mass Effect: Andromeda gameplay trailer, and all the latest information on Legend of Zelda: Breath of the Wild.