'Trollhunters' Netflix Release Time: When and where to watch Guillermo del Toro's series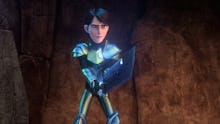 Leave it to Guillermo del Toro's imagination and DreamWorks Animation to come up with this latest Netflix series, Trollhunters, an epic tale of worlds set to collide. 
Based on the book of the same name by del Toro, Trollhunters tells the story of a group of friends who uncover a world beneath their hometown (we're already hooked). When they unleash this mysterious new world they will have to face a battle that no one was prepared for – good trolls vs. bad trolls. 
The epic animated saga will be released on Netflix on Friday, Dec. 23. The show follows the release pattern of previous Netflix series like Travelers and Fuller House, so you can expect the series to be live on the streaming service at 3 a.m. Eastern.
For subscribers of the streaming service, you can watch Trollhunters on any of your Netflix-enabled devices. If you aren't a Netflix subscriber just yet, you can sign up for a free one-month trial. That means you'll be able to visit this magical world again and again. 
Trollhunters has an all-star voice cast that is a perfect fit for del Toro's world. The series stars Kelsey Grammer, Ron Pearlman and the late Anton Yelchin in one of his final projects.