Al Gore meets with Donald and Ivanka Trump at Trump Tower to talk climate change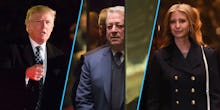 Former Vice President Al Gore met with President-elect Donald Trump and his daughter Ivanka at Trump Tower on Monday to talk about climate change, in what Gore told reporters was "a sincere search for areas of common ground." 
Spokesman Jason Miller told reporters on a conference call Monday morning that Gore would be at Trump's transition headquarters in midtown Manhattan to meet with Ivanka, but said he was not scheduled to meet with the president-elect.
Reporters spotted Gore heading to the elevator at Trump Tower at 11:25 a.m.:
Gore emerged from the meeting at 1 p.m. and told assembled reporters that he "had a meeting beforehand with Ivanka Trump" but "the bulk of the time was with the president-elect, Donald Trump."
"I had a lengthy and very productive session with the president-elect. It was a sincere search for areas of common ground," Gore said, according to a pool report. "I found it an extremely interesting conversation, and to be continued, and I'm just going to leave it at that."
Donald Trump has been a fierce skeptic of climate change, famously calling it a hoax perpetrated by the Chinese government. He then denied saying such at the first presidential debate in September — however, Trump's tweet from 2012 declaring such remains available on his Twitter account:
Ivanka, however, holds much more progressive views on the issue. Citing a source close to the president-elect's daughter, Politico reported on Thursday that Ivanka "wants to make climate change ... one of her signature issues." She is in "the early stages of exploring how to use her spotlight to speak out on the issue," Politico said.
Two days after the election, Gore wrote that he "hope[s] that [Trump] will work with the overwhelming majority of us who believe that the climate crisis is the greatest threat we face as a nation." He said he will "do everything I can to work with him and his administration to ensure that our nation remains a leader in the global effort to meet this challenge."
Tuesday's meetings with Gore may signal a step in that direction. It's also a sign that Ivanka plans to use her status as first daughter to advocate for policy positions, even as she assumes more responsibility over the family business in her role at the Trump Organization.
The president-elect has said Ivanka and his two older sons, Donald Trump Jr. and Eric Trump, will run the Trump Organization once he takes office — which critics and ethics experts say does not go far enough in preventing potential conflicts of interest.
Ivanka attended Trump's first meeting with a foreign leader, sitting in on a session with Japanese Prime Minister Shinzo Abe at Trump Tower, shortly after the election. The New York Times reported on Sunday that the Trump Organization is in the process of finalizing a deal with a Japanese apparel brand owned by a parent company whose largest shareholder is the "Development Bank of Japan, which is wholly owned by the Japanese government."
On Monday, CNN reported that Ivanka and husband Jared Kushner, one of Trump's most trusted confidants, plan to move to Washington, D.C., in the coming months. Kushner is expected to take a role at the White House, despite questions surrounding the legality under anti-nepotism laws of Trump hiring his son-in-law.
Asked by a reporter about what Ivanka's role in the transition and the future administration would be, Miller said she will "continue to assist and help get things moving forward and put together" in her role as an advisor to the transition. Miller pointed to Trump's upcoming press conference on Dec. 15, in which he plans to lay out how the Trump Organization will be run.
Dec. 5, 2016, 1:15 p.m.: This story has been updated.