Father of De La Salle football player accused of rape points finger at "fast girls"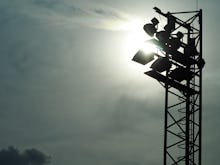 Last week, a rape case at De La Salle High School involving a 15-year-old football player took a disturbing turn when the boy's father spoke out in defense of his son.
The 38-year-old father, whose name, along with his son's, has not been released, maintained his son's innocence following the boy's arrest in an interview with the  in an interview with the East Bay Times Thursday, suggesting that it was the boy's teenage female accuser who was likely to be aggressively pursuing his son, not the other way around.
"He's tall, dark and handsome, he plays for De La Salle, there's a lot of girls that want to be with my son," he told the outlet. "When young, fast girls see something they like, they go after it."
According to the East Bay Times, the assault was partly captured by a surveillance camera since it occurred on Clayton Valley Charter High School grounds after a football game. Still, the alleged assailant's father dismissed the incident as "just two teenagers having sex ... at the wrong place, at the wrong time." 
The father's testimony bears striking resemblance to the letter Dan Turner wrote to Santa Clara County Judge Aaron Persky, who presided over his son Brock Turner's sexual assault case.
After lamenting that his son was no longer his "happy go-lucky self," Dan Turner wrote that the six-month sentence Persky had handed down to Brock Turner for assaulting an unconscious woman behind a dumpster was a "steep price to pay for 20 minutes of action."
In the end, of course, Brock Turner would only serve three months of that sentence. 
The father of the alleged De La Salle rapist is perhaps even more willing to see his son as a victim, but that's how he sees himself, too. The East Bay Times reported that the 38-year-old is a registered sex offender for molesting a girl under the age of 14 a decade ago. He maintains the girl lied to him about her age. 
"Just because my background is what it is — I'm not that type of individual, and neither is my son," said the father, referring to his conviction. "I don't want to see my son be a victim also."
The rape survivor spoke out out against the excuses being made for her alleged assailant.
"Boys need to know that no means no, period. Point blank," she told local CBS outlet KPIX, according to the East Bay Times . "It's not OK for this to happen to anyone,"