'Arrival' Oscar 2017 chances: How will Amy Adams' sci-fi movie fare at the Academy Awards?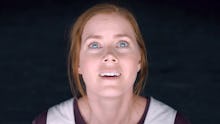 Four weeks of release have yet to slow Arrival down. The Amy Adams sci-fi movie continues to build boffo box office, reaching $73 million over the weekend. Considering the Denis Villenueve movie was made for only $47 million, this is a particularly impressive take.
The movie's longevity in theaters likely means good things for Arrival's Oscar chances, because as long as a film like this stays fresh in people's minds, the better. In order to puncture a race filled with buzzy titles like La La Land, Jackie and Moonlight, Arrival is going to need all the help it can get.
Best picture
Arrival is in no way a lock to get into the best picture race. Right now, you can consider Moonlight and La La Land sure things. Manchester By the Sea is also doing well, and Texan action flick Hell or High Water is holding up surprisingly well among far buzzier movies. Fences is also looking good.
That's five; the academy can nominate up to five more if they are ranked number-one on at least five percent of nominators' ballots. Expect something that older academy members will love (like Clint Eastwood's Sully) to get in; Jackie, though divisive, will probably have enough passionate fans. That leaves Martin Scorcese's Silence (which just started screening), Jeff Nichols' Loving and the sweet-but-dull Lion fighting with Arrival for the final slots.
If it can keep its box office performance up, Arrival will likely get in along with Silence, giving us nine best picture nominees. But again, it's not a guarantee.
Best actress
Adams has been nominated for five previous Oscars, never winning. Unfortunately, with performances like Natalie Portman's in Jackie, Annette Bening's in 20th Century Women and Emma Stone's in La La Land, this also likely won't be Adams' year. In fact, it'll be difficult for her to even get the nomination: She's competing with Elle's Isabelle Hupert, a critical favorite, and Loving's Ruth Negga, who won best-in-show reviews.
At this point, with Arrival surging and Loving looking weak, it's fair to bet Adams squeaks in. But like with best picture, this is a surprisingly tight race.
Best score
Even if Adams and Arrival are aced out of their own races, there's one near-guaranteed nod for Villenueve's movie: for its score. Jóhann Jóhannsson's music for the film is indelible, and particularly prominent at the end of the movie. Academy voters will walk out with that score fresh on the mind; count on Jóhannsson's name to not only be read on nomination morning, but during the Academy Awards themselves as well.
Oscar nominations will be announced Jan. 24, 2017.