Holiday gift guide 2016: Best weed tech and gadgets for the stoner in your life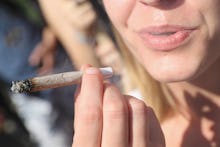 The cannabis industry is growing at a remarkable pace. Earlier this year, voters legalized its use — whether for medicinal or recreational purposes — in a handful of states.
Read more:
As more states embrace legalized marijuana, it's becoming easier and easier to get high. For those who want to get as much enjoyment as possible out of their pot or make growing and ingesting your weed as stress free as possible, there are few gadgets on the market that will help do that.
If you're looking to upgrade your accessories ahead of Christmas or find something new for that special stoner in your life, check out our rundown below of the best weed tech to buy this season:
If you're cooking with marijuana, you'll want your measurements to be precise. 
The Ozeri Touch weighs 18 pounds and is built to showcase weights in kilograms, grams and ounces. The Precision Tare feature also does all the hard math for you and automatically subtracts the weight of any container from the total mass, so you always get the most accurate numbers. 
Users focused on turning loose leaf marijuana into tasty edibles can easily end up in a sticky situation if they don't know what they're doing. Enter the edible entrepreneurs at Colorado-based company Mota Pot who say they've created a portable infuser that will make turning pot into oils incredibly easy. 
Simply pour butter, water and oil into the stove-top device and then turn on the stove until the kettle begins to whistle. Then pour the mixture into a separate dish and let cool until it solidifies, before adding to foods and drinks. 
Bonus: The company's site even features recipes and food guides for the culinary challenged, which includes step-by-step instructions for everything from marijuana-laced salad dressing to cannabis-infused smoothies. 
Smokers looking for an all-in-one vaporizer should make sure to put down their spliff and check out the Firefly 2. The vaporizer has received top marks from both traditional publications and specialty news sites, alike — Newsweek even called it the "iPhone of vaporizers" — thanks to its usability, sleek appearance and vapor quality. 
It's a little expensive, but hopefully the two-year warranty will help assuage any doubts about the upfront costs. Each device comes with two rechargeable batteries, a charging dock, USB cable, cleaning kit and three concentrate pads.
The SmoCAN is a stoner's ultimate portable hack. The repository has customizable chambers so it can hold a three-piece grinder, joint, lighter and pipe. Smokers can carry it around with without fear of drawing unwanted attention.
It's also water resistant, odor resistant and only 4.6 by 1.25 inches, so it can comfortably fit into the average pocket, bulge free.
There's a right way and a wrong way to toke around friends that don't smoke. While Emily Post never felt the need to disclose how pot smokers should behave in mixed company, proper social etiquette (and common sense) would dictate that those who partake should keep their smoke to themselves when possible. 
If you're concerned about keeping your habits private, the aptly named Smoke Buddy could help. Blow smoke into the portable device and its air filter will remove all odors and smoke. According to the company's website, it's good for an estimated "300 uses or more" before it needs to be replaced. 
Budding entrepreneurs looking to grow their legal pot business may want to cast their gaze on the automated grow home system by Leaf. The device is like a miniature hot house and designed to help users monitor plant health (think: ventilation, humidity, soil quality and more) via a downloadable application. 
This item isn't available just yet, but shoppers can pre-order the device now ahead of its September 2017 launch. 
Editor's note: Prices and product availability are subject to change throughout the holidays.
Mic Essentials brings you handpicked deals, reviews, recommendations and gift ideas. If you buy something through a link on this page, Mic may earn a small commission.