This hugely popular mobile fashion game is investing big bucks in body positivity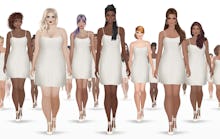 Before Tuesday, users of the popular mobile fashion game Covet Fashion, which has 500,000 users daily, were tasked with outfitting their models, who were always thin with typically mannequin-esque proportions. Think of it like a paper doll, but more 3D. 
Users were presented with "Fashion Challenges," which prompted them to think of things like, "How should be model dress for a celebrity birthday party?" Then they were tasked with dolling up their model, dressing her in garments from actual brands like BCBG and J Brand Jeans, picking her hairstyle and her makeup, as well as her skin tone. 
Finally, Covet players would share and vote on whose outfit they liked best.
But to many users and members of Covet's team, there was always something missing: Diversity, which is becoming more and more important to the fashion industry as a whole. 
Starting on Tuesday, Covet users will now have the ability to choose from 50 different models with various different body types (up from just one) and seven different skin colors to choose from as well (there were just five before). 
While plenty of other companies are moving to embrace diversity, from Urban Outfitters to L'Oréal, this stands as a significant concerted effort made by a video game to be more representative. Covet is embedding its users' experiences with some of the values fashion is increasingly embracing, like inclusivity. 
This upgrade also sets a new precedent for video games to begin to be as diverse as the people who play them. 
"When we set out to do Covet, we set one body type, and we had called it a mannequin because it wasn't a realistic human," Blair Ethington, Covet's senior vice president, said in an interview. "We went the traditional route. The unrealistic figure we were portraying in the game wasn't what we thought was an empowering message to users as well."
According to Ethington, this process of bringing diversity into the game all started when the company reached out to users about what they thought the game could improve on overall. 
"It started after we realized that women were changing the way they got dressed every day because of Covet Fashion," Ethington said. "When we started talking to Covet users about what we can do to make the experience more powerful and impactful for you, it really came down to diversity and representation of women. And how this tool and experience can be an empowering one for people. We hadn't really fully delivered on that."
In quotes obtained by Mic from Covet, which were gathered through surveys, women were clearly and vocally interested in dressing bodies that looked more like their own. 
"It's about time that fashion is designed for real bodies," one user wrote about the idea of adding more models to choose from. "So many players including me have been complaining about the lack of diverse body types forever and this would be great," another wrote.
Although, at the same time, there were some users who were less than thrilled of the idea of this type of game being realistic, noting that if given the opportunity, people could still want to style the thinner, taller models. "Everyone will automatically gravitate to the skinniest model anyway to win," one user wrote to them. 
And that's exactly why, in addition to adding these new body shapes and skin tones, that Covet is also reinventing the game a bit. Rather than users picking their models, users will now be presented their models and given challenges.
"Today when you enter the challenges, you can choose between someone who may look like you or someone you know," Ethington said. "So we're going to change the storyline so for each event, you're being given a client. So she is a person and she will have a set skin tone and a set body shape, height and that will be who you are then working with, which is much more realistic for what stylists deal with." 
The real goal for this update is that women the world over will be encouraged to appreciate the beauty of women who may look like them — or not look like them. 
"The goal of it is for every woman who is playing the game to see the beauty that's possible in everyone else and not to have one standard of what beauty or an ideal is," Ethington said. "And so you can start to see yourself in the experience but you can also start to see the beauty of everyone else and the beauty of diversity." 
In a video that debuted on Tuesday to mark the launch of these new models, titled "How Compliments Can Empower," women swap compliments, like they'd swap compliments on the mobile game as well, in order to show the power of understanding their own worth. 
So really, Covet Fashion's mission here is no different than fashion's mission as a whole: To make sure people appreciate the beauty of diversity, it all starts with seeing diversity. So, let's show them off and make sure as many people as possible know their worth. 
With this update, 500,000 Covet users a day will hopefully now be able to understand the power — and beauty — in that as well. 
You can watch Covet Fashion's video for this new launch below: