A Muslim-owned restaurant is hosting free Christmas dinners for homeless people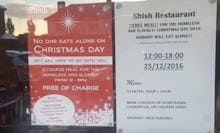 No one should eat alone on Christmas.
Shish Restaurant, a Muslim-owned Turkish eatery in London, posted a flyer on their door promoting a free three-course Christmas dinner for the homeless and eldery.
"No one eats alone on Christmas Day," the flyer said. "We are here to sit with you."
According to BuzzFeed News, the restaurant staffers' mission was simple: They just wanted to help people.
"We're just helping people," Hasan Masud, an employee at Shish, told BuzzFeed News. "Lots of people stay home alone for Christmas ... They don't need to. They can come here and have some fun."
The three-course dinner sounds as delicious as it is heart-warming: The flyer listed the traditional Turkish appetizers, entrees and desserts of the Christmas Day dinner. For starters, the restaurant will be serving soup and cacik. (Cacik is similar to the Greek-style Tzatziki, but the yogurt isn't strained.)
The entrees feature a chicken casserole, vegetarian casserole or a chicken shish kebab. For dessert, dinner guests will be chowing down on some sweet rice pudding.
People on social media, moved by the kind and generous gesture, have been giving the restaurant a lot of praise.
While Muslims don't necessarily celebrate Christmas, their religion reveres Jesus as a highly respected prophet. Like many Christians, Muslims are taught to follow the messages and teachings of Jesus. So, what better way to do that and emulate the holiday spirit by showing love and care to those who are less fortunate with a warm festive Christmas dinner?