'Final Fantasy 15' Glass Gemstone location guide for upgrading your engine blade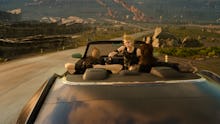 For Cid to upgrade Noctis' engine blade as a part of the "A Better Engine Blade II" quest in Final Fantasy 15, you'll need to provide an item called a Glass Gemstone. Whether you sold all the ones you found at the beginning of the game or have yet to find a single one at all, we've got you covered.
Final Fantasy 15 Glass Gemstone locations
According to Prima Games, you can find a Glass Gemstone at Lestallum, which you gain access to in chapter three. Once you park your car, head up the stairs and cross the main road. You'll see a blue building off to the left labeled "Newfields." The item on one of the tables in front of that building is a Glass Gemstone.
YouTuber shenik also found two different Glass Gemstone locations, which you can see below.
If for some reason you found all of the above Glass Gemstone locations and sold them, Prima Games and iTech Post report that once Gladiolus' survival skill gets to level 6, there's a chance Glass Gemstones will drop after you defeat enemies.
More Final Fantasy 15 news, updates, tips and tricks from Mic:
If you're ready to get your bromance on, you'll want to read up on all of Mic's Final Fantasy coverage, including a big list of tips and tricks, the juicy details on gay Noctis/Prompto fan art, a guide to fishing in Final Fantasy 15, a guide to changing your chocobo's color, a guide to finding a sturdy helixhorn, a review roundup for Final Fantasy 15, rumors about a PC release and Conan O'Brien's reaction to the game on his show.