'Fast 8' trailer release date: Here's how to watch the new 'Fast and Furious' promo live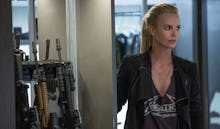 The cast of The Fast and Furious franchise shared a video on the film's official Twitter account Monday, teasing the new trailer for the upcoming Fast 8. There's finally a look at the new installment when the trailer debuts on the film's Facebook page on Sunday.
How to watch the trailer
The trailer will be released via a Facebook live video, however, an exact time has yet to be announced. But with that said, some lucky fans will actually be able to watch the trailer alongside the cast. Those who live in the New York City area can enter for a chance to join the stars of the film at the live trailer debut event. No further details have been announced.
The Fast 8 Cast
In the video, Vin Diesel, Dwayne "The Rock" Johnson, Tyrese Gibson, Ludacris and Michelle Rodriguez look back on the most iconic moments from the franchise and even share some behind-the-scenes footage of the upcoming film.
Although we don't get an extensive look at Fast 8, we do see newcomer Charlize Theron, who plays Cipher. Her character is described as one of the film's villains and was officially introduced on the film's Twitter account in May. 
Theron joins the extensive cast, featuring other new additions like Helen Mirren, who confirmed her mysterious role back in June to Elle. Scott Eastwood also joins the cast, playing an unnamed character who works under Kurt Russell's Mr. Nobody. 
F. Gary Gray (The Italian Job) directed Fast 8, which follows 2015's Furious 7 that ended with an emotional ode to Paul Walker. Following his death in 2013, the franchise gave his character Brian a proper send-off, trading in the racing life for family life. 
Fast 8 races into theaters on April 14, 2017.
Correction: Dec. 5, 2016