What happened at Standing Rock — and what's next for indigenous people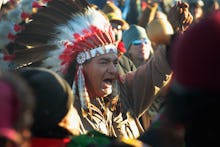 Indigenous activists and their supporters celebrated Sunday night after the Obama administration halted construction on a segment of the Dakota Access pipeline that would cross under Lake Oahe near the Standing Rock Sioux Reservation.
For months, thousands of protesters have demonstrated against the pipeline, which they say threatened the reservation's water supply and sacred land, occasionally in the face of harsh treatment by police. 
In a statement, Dave Archambault II, tribal chairman of the Standing Rock Sioux, praised the Obama administration's decision and thanked tribal youth and the group's supporters "around the globe" for their role in halting the pipeline.
"In a system that has continuously been stacked against us from every angle," Archambault wrote, "it took tremendous courage to take a new approach to our nation-to-nation relationship, and we will be forever grateful."
Eric Ferrero, a spokesperson for Amnesty International, praised the Army Corps of Engineers' decision as a good first step and urged the United States government to improve its relationship with indigenous communities.
"While we celebrate this hard-fought victory, we also call on Congress to ensure that indigenous communities are always consulted in decisions like this," Ferrero said in a press release.
What's next for #NoDAPL?
The looming Donald Trump presidency casts Sunday's victory in a shadow of uncertainty for indigenous communities and their supporters in the #NoDAPL movement.
As Mic's Zak Cheney-Rice noted, "the victory depends on a friendly federal government being in power." While the Obama administration, after months of pressure from activists and some of the president's allies, stopped the construction, Trump could still approve the pipeline. 
Trump supports the pipeline, spokesman Jason Miller said Monday, though he declined to say whether the president-elect would heed the American Petroleum Institute's call for him to reverse the Army Corps of Engineers' decision.  
"We will review the full situation when we're in the White House and make the appropriate determination at that time," Miller said in a statement.
According to CNBC, Trump has held between $15,000 and $50,000 of stock in Energy Transfer Partners, the company behind the Dakota Access pipeline, and the company's CEO donated to Trump's campaign. On Monday, Hope Hicks, a spokeswoman for Trump, told NBC News that the president-elect had since sold off his entire stock in the company.
For indigenous communities, the uncertainty of what a Trump presidency will bring is compounded by a long history of mistreatment of indigenous Americans by the United States government. A lawyer and member of the Standing Rock Sioux Nation told Al Jazeera Sunday was a "small victory ... we have to keep up this action, we can't trust government or energy companies."