Poll finds almost half of Americans support torturing prisoners of war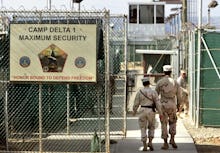 Almost half of United States citizens believe it is morally acceptable to torture captive enemy combatants for information, putting them in sharp disagreements with their counterparts across the world and decades of international and domestic law.
That's according to a new survey from the International Committee of the Red Cross, which found 46% of Americans support torturing enemy combatants — more than any other of the 16 countries surveyed except for Nigeria and Israel. Internationally, just 36% support torture.
As the Guardian noted, while the survey found attitudes against torture have been "coarsening" in the U.S., U.K., Russia, China and France, all countries on the United Nations security council, they appeared to have changed particularly quickly in the U.S.
Just 30% of Americans responded "no" to torture — compared to 48% of those across the world. According to the Guardian, the last time the poll was conducted in 1999, a full 65% of U.S. citizens said it was not acceptable to torture combatants.
Americans similarly came in third on whether torture is "wrong or part of war," with just 54% saying it was "wrong" — coming short of just Israel and Palestine, where 44% and 35% agreed it was wrong respectively.
The development is particularly ominous given the recent victory of President-elect Donald Trump, who during the campaign season came out as an advocate of waterboarding and other enhanced interrogation techniques, as well as bombing terrorism suspects' families. The change in attitudes likely reflect public fear of terrorism since the Sept. 11, 2001 attacks on the World Trade Center, as well as militaristic attitudes and a military and intelligence establishment which has become increasingly powerful and less accountable in recent years. 
Both torture and the targeting of civilians are illegal under international law, including the United Nations' Universal Declaration of Human Rights, the International Covenant on Civil and Political Rights and the Convention against Torture, according to Human Rights Watch. While those international agreements on torture are binding, the prohibition against torture relies mainly on mutual agreement, as the U.N. has limited abilities to act against major world powers. In November, Trump's Vice President-elect Mike Pence said the new administration would not rule out any tactic in "confronting and defeating radical Islamic terrorism as a threat to this country."
As the Guardian added, the four other security council countries have seen sliding attitudes on torture amid "illiberalism" in recent years, with the U.K.'s successful Brexit referendum, the rise of France's far-right Front National and military expansionism in China and Russia. In the five security council countries, 48% oppose torturing enemy combatants, opposed to 66% during the 1999 survey.