Gift guide for book lovers: 12 gifts for every book reader on your Christmas list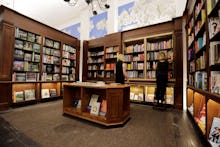 Shopping for the bookworms in your family is easy, right? Just get them another book (if there are any they haven't read yet)! As wonderful as a brand-new hardcover can be — and they are quite wonderful — a book lover's wish list can actually go beyond the latest best-seller or a new Kindle download. This holiday season, get creative and surprise your favorite bookworm with something a little unexpected, but still appropriately literary. Check out our Christmas gift guide.
There's no better pair than a cup of coffee or tea and a good book. And while not all bookworms are introverts (yes, it's true) the message on this mug from Etsy will ensure the recipient will be able to read blissfully undisturbed. 
Everyone thinks it, but few will actually say it, even though it's almost always true. With this gift from Etsy, book lovers don't have to bother offering their feedback about the latest blockbuster, because a stylish tank will do it for them. Bonus points if it comes with tickets to a page-to-screen adaptation. 
The family's favorite bookaholic can wear her heart on her sleeve — or her entire body — with this dress from Rooby Lane, which can be custom-designed with favorite colors, quotes and books. Wearing it to the local bookstore or library will make everyday errands a special occasion. 
The king of mischievous dark humor offers love and life advice concisely, and he was nice enough to have it printed on the John Waters tote bag to remind single bookworms of it whenever necessary. Carrying this bag, which is sold at the Strand bookstore, around the library or bookstore might spark some interesting conversations. 
"Stairway to Heaven" has a different meaning for book lovers, and these decals from Etsy will show people they are ascending to a room filled with their favorite things as they climb steps decorated with the titles of their favorite books. 
And once they've arrived at their rooms, people will need this useful glow-in-the dark bookmark from Etsy to mark the spot in their latest book. 
This gift is only for those truly devoted to reading. If it's not enough to dress and accessorize oneself with book-inspired attire, Demeter's perfume can help bookworms to smell like their favorite thing as well. 
If this book lover is generous with his/her prized possessions, House 1880's personal library set will ensure that any books loaned to friends and family will be returned promptly. 
Two professors' book will further a book lover's education in the Bard and booze, offering up recipes for libations like Othello's Green-Eyed Monster as well as Kate's Shrew-driver. Sold on Amazon, it's perfect for the next book club meeting! 
Aside from a cup of hot coffee or tea, the best companion for a book is a purring feline friend, and this tattoo found on Etsy will keep a book lover company when both necessities are not nearby. 
If all a book lover wants to do is read, why not do it in style? This two-person tent from Field Candy will ensure the only animals that approach a campsite are bookworms. And it's waterproof, so any books brought along camping will stay dry. 
The Broadway revival, which received eight Tony Award nominations, features not one but two love stories that begin with reading and is sold by Ghostlight Records. All the numbers are delightful, but the song "A Trip to the Library," sung by Jane Krakowski, could inspire some new romances. 
Mic has ongoing books coverage. Please follow our main Books hub.