Harsh blizzard ravages those who remain at Standing Rock to continue the fight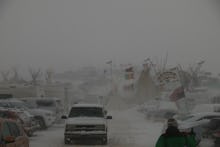 CANNON BALL, N.D. — The sun was bright Sunday when the Army Corps of Engineers halted construction of the Dakota Access Pipeline near Standing Rock, marking a victory for activists at the site. 
But in the 24 hours since, the camp has been battered by an oncoming snowstorm — and conditions are now dire. 
Heavy snow and wind batters the sides of tipis and tents, forcing the Standing Rock resistance indoors. The roads have shut down going in and out of Oceti Sakowin Camp, one of three Standing Rock camps and the one closest to the front lines. 
Supporters around the world could grow complacent now that a tentative victory has been declared, but the Standing Rock Sioux are intent to remain. 
They're certain the fight against the Dakota Access Pipeline isn't over.
Cars are backed up through the camp as the sun goes down, attempting to get out of Oceti Sakowin Camp to the south. One security guard, lighting a cigarette against the wind, said a charter bus was stuck on the bridge on the only road headed south. Despite the alleged victory Sunday, police haven't withdrawn their presence from the front lines along North Dakota Highway 1806, the straight route north toward Bismarck. The shutdown of Highway 1806 to the north has prevented supplies and ambulances from reaching the camp quickly for weeks.
In the camp, which is built like a small city, there are still over 5,000 or 6,000 people, who are now huddling around wood stoves and furnaces in the designated heating areas.
"Wood be becoming very scarce," a security guard who identified himself as Mad Max said. "People need propane tanks, even if they're empty we could use them."
Winter on the North Dakota plains is coming in with full force. The Lakota Sioux don't typically reside at Standing Rock year-round, instead spending colder months in other treaty lands like South Dakota's black hills. But the police and the pipeline company are still here — and so the Sioux are remaining.
At least food is abundant, and both the Lakota Sioux and their remaining guests are confident that the roads will open again soon. As long as the world doesn't turn away from Standing Rock, the resistance will fight on.