Trump HUD pick Ben Carson didn't live in public housing after all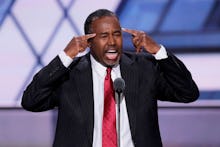 Ben Carson, the former neurosurgeon turned conservative presidential candidate, received a formal pick as secretary of housing and urban development from Republican President-elect Donald Trump this week. Despite his near-total lack of formal qualifications for the role, some Carson supporters touted his rough-and-tumble upbringing as a young black child in Detroit as evidence he understands urban policy — specifically the fact he himself grew up in public housing.
Notable backers of this theory included former Arkansas Gov. Mike Huckabee and Armstrong Williams, Carson's close friend and spokesman.
Except the part about public housing isn't true. In a correction posted to a New York Times article Monday, the Times wrote Williams told the paper the neurosurgeon grew up in subsidized housing, but later changed his story.
While a 2011 Success article did cite Carson's family "[settling] for Detroit's downtown housing projects" after moving from Detroit to Boston, an October 2015 piece on skepticist site Snopes noted it was "unclear" whether that indicated he lived in federally subsidized apartments.
The issue is somewhat complicated by Carson's tendency to give out quasi-mythical anecdotes about his past, from lying about getting into the U.S. Military Academy at West Point and spreading tales of his violent youth to misrepresenting his ties to a shady dietary supplement company. Williams, Carson's spokesman, also once defended a story Carson told about being held at gunpoint at a "Popeye's organization."
Regardless, it would appear Carson did not live in public housing. But his comments on the record have some housing experts concerned about his qualifications to run a vast bureaucracy designed to help millions of impoverished Americans, according to the Times.
While Carson has not been outspoken on housing issues, he "once told a television interviewer ... 'poverty is really more of a choice than anything else,'" the paper wrote. He also once wrote an op-ed calling fair housing programs, the task for which HUD is designed, "social engineering."
"Government-engineered attempts to legislate racial equality create consequences that often make matters worse," Carson concluded, adding "based on the history of failed socialist experiments in this country, entrusting the government to get it right can prove downright dangerous."