Joe Biden hints at 2020 race against future President Donald Trump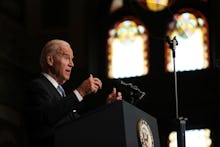 Vice President Joe Biden told reporters outside the Capitol Building "I am going to run in 2020... for president" because "what the hell, man?" Chad Pergram of Fox News reported Monday night.
When asked to clarify whether he was joking, Biden paused and said, "I'm not committing not to run. I'm not committing to anything. I learned a long time ago fate has a strange way of intervening."
Biden was at the Capitol to preside over a Senate vote in his constitutional role as president of the Senate. The vote was in honor of former Delaware Attorney General Beau Biden, the vice president's son who died of brain cancer in May 2015 at the age of 46.
Despite constant speculation Biden was gunning for a shot at the presidency this year, in part because Beau Biden's dying wish for him was to do just that, the vice president never formally entered the race. But political calculus also played a role, with Biden's relatively late-stage consideration of a possible run coming up against what had at the time appeared to be an impregnable advantage held by former Secretary of State Hillary Clinton.
If Biden decides to run in 2020, he would likely be a formidable opponent against a presumable incumbent President Donald Trump. Biden would have entered the 2016 race as the most popular candidate with a +12 favorable rating, according to Meet the Press. But he would also be 78 years old on Nov. 20, 2020, qualifying him by nearly a decade as the oldest president at the start of his term.