Meet Dorit Kemsley, the new 'Real Housewives of Beverley Hills' season 7 cast member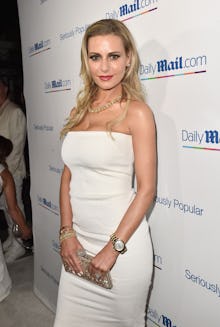 There is a new housewife checking into The Real Housewives of Beverly Hills and her name is Dorit Kemsley. 
Described as a woman who "balances the demands of overseeing her husband's company while parenting alongside her many nannies" in Bravo's preview of the season, Kemsley is ready to stir the pot with the ladies. 
She joins the current line-up of Housewives which includes Lisa Vanderpump, Kyle Richards, Erika Girardi, Lisa Rinna and Eileen Davidson. Kemsley works alongside her husband Paul "PK" Kemsley, and is best friends with one of the world's most iconic pop stars and has an endless amount of staff at her home.
Boy George is her good friend.
Kemsley's husband, Paul, is a talent manager and owns management agency Nixxi Entertainment, and one of the acts he manages is pop icon Boy George. As a result of her husband's professional relationship with the singer, the two have become great friends and the singer has been living with them for the better part of two years. He is also the godfather to their daughter and she refers to him as her other husband, her "really, really gay husband."
She's close with both Lisa Vanderpump and Kyle Richards.
Since joining the cast, Kemsley has become close with cast member Kyle Richards and her husband Mauricio Umansky. Her husband's Instagram account, as well as hers, both feature plenty of pictures of them hanging with Vanderpump and Richards. It's clear Kemsley has taken sides with the cast ahead of the season premiere, and will probably be Team Lisa Vanderpump in the war of the Lisas: Vanderpump vs. Rinna. 
New to 90210 
Kemsley and her husband only moved to Beverly Hills in 2015 after meeting and living together in New York for a few years. The couple has two children together, their son Jagger and daughter Phoenix. She gives former Housewife Camille Grammer a run for her money as she employs several people at her 10,000 square foot house.
They run with a very famous crowd.
In addition to her beloved Boy George, the Kemsleys are constantly surrounded by celebrities, like Goldie Hawn, Naomi Campbell and Kemsley's other client, soccer legend Pelé.
She launched her own swimwear brand. 
While living in Italy, she worked for a swimwear company. When she moved back to Manhattan she launched her own swimwear brand, Dorit International.
The Real Housewives of Beverly Hills premieres Tuesday, December 6, at 9 p.m. Eastern on Bravo.
Mic has ongoing Real Housewives coverage. Please visit our main Real Housewives hub.