'Westworld' star Ben Barnes responds to season 1 unanswered question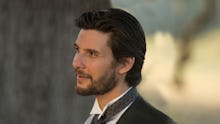 HBO's hit new series, Westworld, concluded its first season on Sunday with an epic extended episode. In a bit of a departure from the current trend in television, the finale managed to answer most of the season's lingering questions, while, of course, still holding enough back to entice viewers for a second season. One of the few remaining questions after the season finale is the whereabouts of William's friend (well, that is not the right term anymore), Logan, played by actor Ben Barnes. 
While it has been suspected for some time, the audience officially learned in the season finale that William and Logan were characters from Westworld's past. Further, after much fan conjecture, the theory that William and Ed Harris' Man in Black were one and the same, turned out to be correct. 
It was the elder William that explains to Dolores how he evolved from the man she loved to the maze-seeking gunslinger of the present. And in that tale, William dispatches of Logan by tying him naked to a horse and sending him on his way. But where? 
Has Logan been wandering the park naked for the last 30-plus years? Unlikely. Did he leave Westworld and sit idly by as William eventually took control of his family's business? Well, maybe. Nobody knows the answer, not even Ben Barnes, the actor who portrays Logan. Barnes recently took to Instagram to let fans know he has no idea of Logan's whereabouts. 
In addition to the hilarious Star Wars/Westworld mashup Barnes posted, he commented, "Not sure where Logan is either but... I know he's still choosing #BlackHat."
In all likelihood, somebody in the park eventually found Logan and let him loose, hopefully after providing him some clothes. After all, it is hard to imagine Delos (in present day a majority owner of Westworld) would have made such an investment in the same park that Logan perished naked. 
Whether we will see Logan, either as an adult or in a flashback, in the second season is still unknown. However, Jimmi Simpson, who plays young William, recently spoke with Vanity Fair and addressed whether he would be returning for a second season. His answer was pretty simple: "No." 
While very little is known regarding Westworld's second season, with young William supposedly not returning, it would not be shocking if we have seen the last of young Logan as well. Of course, Reddit did such an unbelievable job predicting the first season that, perhaps, dedicated fans will figure out Logan's fate before the creators even decide. 
What is most likely is that Logan's fate is just not all that important to Westworld's narrative. So, maybe viewers have to accept at least one unanswered question. 
Mic has ongoing Westworld coverage. Please follow our main Westworld hub.