The 2016 Victoria's Secret Fashion Show had a record number of models with natural hair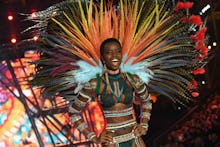 At the 2016 Victoria's Secret Fashion Show, model Maria Borges appears to have started a movement. 
In 2015, Borges made history as the first woman with natural hair to walk the VS Fashion Show, a runway usually overflowing with hair in long, bouncy, shiny waves. Now, just one year after Borges' debut, a record number of women rocking their natural hair danced down the runway. 
Just like last year, there was Maria Borges. 
But then there was also Herieth Paul. 
And there was Jourdana Phillips, who shaved her head just one month before the show. 
And then there was Alanna Arrington, who rocked her natural curls for her first time on the VS runway. 
Prior to the show, we had guessed that there'd be more natural hair on the runway than ever before after the show's lead hairdresser hinted that this would be the year they'd be more in favor of the models embracing their natural state, rather than opting for wigs or weaves. 
"We want to embrace everyone's natural beauty," Sarah Potempa said to Refinery29. "We're giving a carefree approach to the length and type of curl. Some women with shorter hair, maybe a lob, will walk with that hair. We're not gonna add extensions to make it super long. And if someone has short hair on the side or a tight haircut, we're not gonna put a wig on or put extensions on their head. We're gonna embrace it." 
And on taping day, Borges, Paul and Phillips posed for an Instagram with the caption: "Our singing group is called the #BuzzcutAngels." 
In the comment section, people appeared to be psyched for the three of them to hit the same, widely-viewed runway. "I live for moments like these, the pride I feel when I see black women breaking boundaries," one commenter wrote. Another: "Love love love so much power in this!" 
The number of Chinese models on the VS runway also hit a record high this year, with four models from China: Liu Wen, Ming Xi, Sui He and Xiao Wen. 
Of the diversity this year, Brazilian model Lais Ribeiro told Teen Vogue: "The show features women from every place you can imagine. Victoria's Secret helps to build our confidence up [by sending the message] that you can be different, and it's beautiful, and it should be considered normal. All the viewers look up to us, and we just want to prove to everyone that they can be a part of it also." 
So this year in particular, it seems as though more women in the world than ever before could realize that. After seeing these women walk down that runway on Monday night, maybe they aren't so different than these Victoria's Secret angels after all. 
Though, here's hoping next year Victoria's Secret makes a more concerted attempt to address size diversity as well.