'Ink Master' season 8 finalist Kelly Doty: Girls' alliance was more about moral support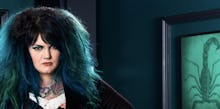 Ink Master season eight cast member Kelly Doty made it all the way to the finale — but she doesn't credit the alliance she made with her fellow female co-stars to getting her this far in the game. With a lot of hype surrounding the potential first female Ink Master winner, the tattoo artist wants to make it clear that everyone who made it to the top three earned their spot.
Kelly, who has a tattoo shop based out of Salem, Massachusetts, has been working in the industry for eight years. While she was confident in her abilities when she entered the reality show, she thought her nerves might trip her up.
"I'm just a naturally nervous person," Kelly said to Mic. "Kind of like a cat that just got out of a bath, so I was concerned about that. I think in the end it kind of helped just naturally always being nervous. I was prepared to be terrified."
Ink Master judges Dave Navarro, Oliver Peck and Chris Nunez are known for being tough on contestants, but season eight was different. Peck and Nunez formed teams in order to compete with each other. The result was a softer side of the judges, who aided their team members throughout the competition. But as mentioned, that wasn't the only help that some of the cast members received.
The other female artists including Ryan Ashley Malarkey, Nikki Simpson and Gia Rose formed an alliance despite not all being on the same team. The women defended each other in elimination tattoos, and even helped each other with skull picks. Nikki and Gia were ultimately eliminated, but Kelly and Ryan made it to the final three alongside Gian Karle Cruz. However, Kelly believes she would have made it there without the alliance. She said it was more of a support group than anything.
"I was definitely surprised to find myself in an alliance," she said. "I thought I was going to be lone wolfing it the whole time, but it was definitely a very happy surprise to have such supportive people around, and such good artists too.
"If you can't tattoo and you can't meet the challenge of the day then nothing is going to save you. No alliance is going to push you forward when you can't make it there yourself. It was nice to have the moral support, but I don't think it was necessary for any of us."
With that said, Kelly wholeheartedly agrees with Ryan and Gian making it to the top three. 
"I think Gian killed it all season," Kelly said. "He hasn't been in the bottom. He's just so good and he's such a clean tattooer. And then Ryan worked her butt off. She's so creative, everything that she does she's able to put a Ryan twist on, and that's a pretty exceptional talent as a tattooer ... also I really like that Kelly individual. I'm really pulling for her as it turns out."
Kelly will show off her 24-hour traditional chest piece — a style Ryan and Gian chose — Tuesday night during the live Ink Master finale. But that's not the only tattoo she'll have to show to the judges. She'll also be completing a seven-hour tattoo onstage.
"America decides on the style that they want to give us so I guess it's kind of a matter of hopefully people like you enough to give you something that you can really shine on," Kelly said. "I'm hoping that for Ryan and Gian as well. We've already challenged each other as much as we possibly can, we gave each other the hardest things we could think of, so I'm hoping that we each get our specialty."
The Ink Master season eight live finale airs at 10 p.m. Eastern on Tuesday on Spike.