9 celebrities who celebrate Hanukkah: From Drake to Zooey Deschanel and more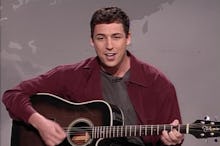 The celebration of Hanukkah this year begins on Saturday and continues for eight crazy nights until Sunday, Jan. 1. 
While Mariah Carey may be the queen of Christmas, other celebrities celebrate Hanukkah just as big. From Drake to Billy Eichner, here are nine celebrities who will be celebrating Hanukkah right this year. 
Adam Sandler
We couldn't begin without Sandler, of course. Because there are too many Christmas songs and not enough Hanukkah songs, he came up with "The Hanukkah Song" during his time on Saturday Night Live. "This time of year always made me feel a little left out because in school there were so many Christmas songs and all us Jewish kids had was the song 'Dreidel Dreidel Dreidel,'" Sandler said before singing the now-iconic song. 
Drake
Some may forget that our favorite Canadian rapper is also Jewish. Drake has always been vocal his religion and we're looking forward to his Hanukkah Instagrams this year. 
Bryce Dallas Howard
Black Mirror star Bryce Dallas Howard celebrates the holiday with her husband Seth Gabel. We'll give her five stars this year for any Hanukkah post on social media. 
Zooey Deschanel 
Leave it to New Girl's Zooey Deschanel to look better lighting the menorah in this Instagram from Hanukkah 2014 than any of us will this year.
Skylar Astin
The Hanukkah throwback pictures Skylar Astin posted on Twitter are too cute for words. The Pitch Perfect star loves latkes, like any other person with great taste – and now we're really hungry. 
Jenny Slate
Jenny Slate's throwback picture she posted last Hanukkah is adorable, but the caption is even better: "At 17 and cutting into a cake that my nana got for me and a picture OF MY OWN FACE was printed ON THE CAKE. YOU CAN SEE MY EYES IN THE REFLECTION OF THE CAKE KNIFE. That and GIANT LOOMING menorah in the back are a fine explanation for my facial expression," Slate wrote. 
Sarah Silverman
Sarah Silverman just wants us to all get along this holiday season, no matter what you celebrate. 
Paula Abdul 
Straight up now tell us how you're celebrating Hanukkah this year, Paula Abdul. The former American Idol judge shared this sweet quote on Twitter last year for her fellow Jewish followers. 
Billy Eichner
Billy on the Street's Billy Eichner really summed up the feeling about there being so few Hanukkah movies.