Why was Kanye West's 'The Life of Pablo' snubbed for album of the year Grammy?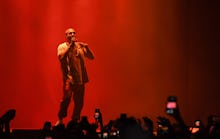 Kanye West had, by all accounts, a rollercoaster of a 2016. He finally released his album The Life of Pablo to solid reviews and fan enthusiasm, but is ending the year amid a public meltdown that ultimately put the artist in the hospital.
The Grammys, however, care not for public downfall; they're about the work. Yet despite a mammoth eight total nominations — second only to Beyoncé — The Life of Pablo failed to get an album of the year nomination Tuesday morning.
It's no secret that West and the Grammys have something of a fraught relationship. Though he's gotten dozens of nominations from voters over the years, some of his biggest works have failed to garner recognition outside of the rap categories. As a result, West has previously declared his distaste for the Grammys, even threatening to boycott this year after Frank Ocean failed to submit his albums Blonde and Endless for consideration before the deadline.
So it's not a shock to see The Life of Pablo left off, especially when Drake's Views took up what was seemingly the only slot for a rap album. But West's team can take heart: Eight nominations, even without the big one, is nothing to sneeze at.