Donald Trump might not be enforcing his own ethics agreement with Peter Thiel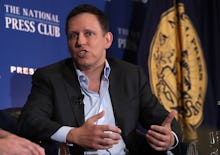 President-elect Donald Trump has repeatedly shrugged off the many business conflicts of interest that might violate the Constitution or allow his family to profit while he is in office — and he's unlikely to say more on the record until a scheduled Dec. 15 conference when he will announce plans to leave his company.
But at least on the surface it seemed the president-elect was taking more seriously his promise to "drain the swamp" within his transition team and administration — by firing a handful of early appointees with lobbying connections and making officials sign an agreement preventing them from influencing policy that would lead to personal financial enrichment.
The pledge precludes "involvement in any particular transition matter which to my knowledge may directly conflict with a financial interest of mine, my spouse, minor child, partner, client or other individual or organization with which I have a business or close personal relationship."
Critics point out that registered lobbyists are complying with the rule by simply deregistering — one reason Trump's efforts are "like draining a tiny corner of the Everglades even as you ship in thousands more alligators," as Jon Schwarz at the Intercept put it.
But that's not all: It seems Trump might not actually be enforcing the rule.
According to a Tuesday Politico report, businessman and Facebook investor Peter Thiel, a member of Trump's transition team, hasn't acknowledged whether he has signed the agreement — and neither have his aides. 
Thiel's spokesman, Jeremiah Hall didn't respond to multiple questions about whether the agreement has been signed, telling Politico simply that "Peter's team wants talented people to work in government. Everyone on the team abides by the rules in pursuing that goal."
Potential financial conflicts of interest for Thiel — a high-profile Silicon Valley investor who has backed dozens of startups — are numerous, since several Thiel companies have government contracts.  
These include SpaceX, which contracts with NASA, and Helion Energy, which has received $5 million in grants from the Energy Department. 
Thiel has personally — or through his Founders Fund — also invested in several companies in nascent industries for which regulations are still being developed. These include the sharing economy (Airbnb and Lyft), financial technology (Nubank, SoFi) and education technology (AltSchool).
But the biggest conflict of interest is probably with regard to Palantir — the CIA-backed big data startup which reportedly accounts for about half of Thiel's net worth and has contracts with a number of government agencies, including the Pentagon.
If Thiel gets an official job in Trump's administration, his investments could be a problem since federal rules prevent financial conflicts of interest on the part of government employees and administrators — even as the law grants an exception for the president and the vice president.
And Thiel isn't the only transition appointee who might be in a position to advise the president on matters in which he has financial interests.
In November, Trump announced the appointment of Shawn Krause, an executive vice president at Quicken Loans, to help with the transition effort at the Department of Housing and Urban Development. Krause, a former registered lobbyist since 2009, deregistered in October, part of a wave of lobbyists who terminated their status after Trump released his transition team's ethics agreement. 
Quicken Loans is the largest underwriter of mortgages backed by the Federal Housing Administration, the Wall Street Journal reported.
Quicken defended the announcement: "It makes total sense you'd have someone like that. You're finding people that actually understand housing," Quicken's chief executive Bill Emerson told the Journal. "When you think about draining the swamp, this goes right in line with that."
Representatives for the transition team and a spokesman for Peter Thiel didn't respond to request for comment by press time.