There's a sour irony in 7-Eleven selling slurpees to fund cancer research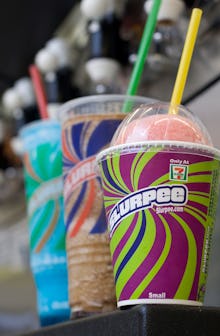 Sell sugar water, fight childhood cancer? That's what 7-Eleven proposes with a recent marketing campaign called Slurp4Good. For every large Slurpee sold in the U.S. from Nov. 9 through Jan. 3, 2017, 7-Eleven will donate 11 cents (up to $200,000 total) to St. Jude's Children's Research Hospital. 
Yes: For every purchase of a large Slurpee (containing 134 grams of sugar aka two and a half day's worth of the sweet stuff), 7-Eleven will generously donate money that can make them eligible for a tax write-off. Sell Slurpees, look charitable, save on taxes? It's a win-win-win for them. 
But the Slurp4Good campaign is still a marketing effort, and it commits to the bit. Jessica Almy, deputy director of nutrition policy for the Center for Science in the Public Interest, noted in an email that "even the charitable aspect of the campaign is blatantly promoting the 7-Eleven brand — 11 cents to charity, really?" 
"My daughter and I were both very disappointed [when we saw the campaign]," Kimberly Cooper, a Los Angeles-based writer and activist working toward community health, education and wellness policy implementation for underserved populations, said in an email, explaining that her family is dealing with cancer right now and a friend lost a child to it this year. She's upset about "larger corporate entities who take advantage of a nonprofit's need to raise funding."
"Slurp4Good is a great opportunity for 7?Eleven stores and their customers to support St. Jude and its mission of fighting childhood cancers," Ena Williams, senior vice president of 7-Eleven, said in a press release. "Everyone loves Slurpee drinks, especially the kids at St. Jude."
But Slurpees don't love consumers back 
The neon drinks are a mix of high fructose corn syrup, food additives and coloring — they provide few nutritional benefits alongside heaps of sugar. Research into the effects of sugar on human health have come to some not-so-rosy conclusions. Research published in PLOS One in 2013 found that increased sugar in a population's food supply could be independently — rather than via the obesity that often spurs diabetes — linked to higher rates of Type 2 diabetes. The American Diabetes Association notes that drinking sugary drinks is linked to Type 2 diabetes. 
High sugar intake is also associated with obesity, which itself has links to increased cancer risk. The New York Times reported in August on a review of more than 1,000 studies into the connections that found being obese or overweight increased someone's risk for at least 13 types of cancer. In that review, above-average weight was found to correlate with breast, uterine, kidney, stomach, liver, gallbladder, ovarian, blood and other cancers. 
"It's inappropriate for companies that peddle health-damaging products to align themselves with a children's health charity." -Jessica Almy, CSPI
Some studies have even found a direct link between sugar consumption and the progression of cancer
One 2016 study found that a particular form of sugar, fructose, actually fueled cancer growths in mice, NBC News reported. When mice with cancer consumed elevated levels of fructose, they grew bigger tumors at a faster rate. Another study estimated that consumption of sugary drinks could be linked to the death of 184,000 people each year. 
In other words, 7-Eleven is fundraising for cancer hospitals with a giant sugary drink that can potentially lead to weight gain and could most definitely play a role in... drumroll please... cancer! 
"It's inappropriate for companies that peddle health-damaging products to align themselves with a children's health charity," Almy said. "If brands like 7-Eleven want to make a real difference for kids' health, they should adopt meaningful changes that benefit kids' health," like reducing sugar or dyes in its drinks or adding healthier options near store registers.
7-Eleven isn't the only food chain that attempts to appear charitable and public-health-conscious by fundraising with unhealthy food. "This reminds me of the time a children's health clinic was renamed after Krispy Kreme," Almy said. "That was a bad idea then, and this is a bad idea now."
7-Eleven did not respond to Mic's request for comment.