Madonna's "Carpool Karaoke" video keeps feud with Piers Morgan alive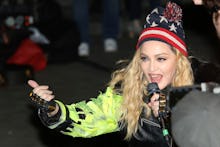 Late night television has been on a roll lately, with no shortage of great segments to watch before you go to sleep. One such segment? The Late Late Show With James Corden's "Carpool Karaoke." And Corden's next guest is iconic — so iconic, she doesn't need a surname. She is only, Madonna (queue flashing lights and fireworks). 
For those not in the know, The Late Late Show's "Carpool Karaoke" sees host James Corden ride around with various celebrities, singing along with the radio. Prior guests have included stars like Adele, Britney Spears, Lady Gaga and Michelle Obama (just to name a few). As great as those guests are, there is still only one Madonna. 
Check out the preview for Madonna's "Carpool Karaoke" episode, airing Wednesday on CBS, below:
As the preview lays out, Madonna is the best selling female artist of all time, has won seven Grammys and has over 300 million records sold. In the short 50-second video, Madonna and Corden jam out to "Vogue" and "Bitch I'm Madonna," but that's not all. Madonna shows she can twerk as well. 
There are some people out there who are not excited to watch Madonna on "Carpool Karaoke." Former CNN host, Piers Morgan, took to Twitter to voice (well, display) his response to the above video. 
For those that do not keep up with the various feuds of political hosts, Piers Morgan has had a beef with Madonna for quite some time now. Morgan told Access Hollywood in 2011 that their feud stems from a "series of crimes," and that "Madonna and I, we've never really seen eye to eye." He added:
There was a bread roll throwing incident in London in the mid '90s; there was an incident at a hotel in the south of France [at] the Cannes Film Festival involving a photographer and a bodyguard; there's been an incident involving a pub owned by her recently departed husband, Guy Ritchie, where my brother was the manager.
If you do not share Morgan's displeasure with the iconic artist, you can watch the Madonna episode of "Carpool Karaoke" during Wednesday's The Late Late Show, which begins at 12:37 a.m. Eastern on CBS. 
Mic has ongoing "Carpool Karaoke" coverage. Please follow our main "Carpool Karaoke" hub.