Lady Gaga was everyone's favorite angel at the 2016 Victoria's Secret Fashion Show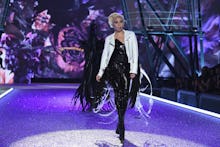 Although the 2016 Victoria's Secret Fashion Show was chock full of big names like Gigi Hadid, Bella Hadid, Kendall Jenner, Adriana Lima and more, it was one petite pop star with an affinity for sky-high heels and gigantic cowboy hats that stole the show. 
Of course, we're talking about none other than Lady Gaga herself. 
When the VS Fashion Show aired on Monday night, Twitter couldn't seem to contain its excitement over Gaga showing up the other models on that runway. 
First, she dramatically opened her set with a massive cloud of white fog, and took to the stage in a floor-length, body-hugging Yolan Cris Fall/Winter 2016 gown embroidered with roses before belting into her latest ballad, "Million Reasons," off her latest album, Joanne.
For her second performance, which nearly closed the show, she took to the stage in a metallic and sequined body suit from Hedi Slimane's latest Saint Laurent collection to sing two songs back to back — "A-Yo" and "John Wayne." 
But of course, one outfit for a performance just wasn't enough for Gaga. In between the two songs, she made an on-stage outfit change, which had her putting on a $1 million hat (complete with 45,700 Swarovski crystals) and strutting her stuff down that runway alongside the models. 
The crowd erupted. 
Gaga gave us some interpretive dancing. 
But again, Gaga decided to give us even more. As "John Wayne" was coming to a close, she slipped on a white leather jacket that had a giant collapsible pair of wings attached to the back, and literally stomped down the runway behind Joan Smalls. 
Oh, and just look at those shoes. 
That's when Twitter deemed her the best VS angel on that stage that night.
And it wasn't even just Twitter that agreed, but the angels themselves, who literally bowed down to Gaga as she took her final bow at the end of the show with Bruno Mars and the Weeknd.
Enough said, yeah? 
You can watch Gaga's performance of "A-Yo" and "John Wayne" in the below tweet, and the entire show via CBS here.