'Pokémon Go' Gen 2 release date leaked by Starbucks employees? Everything we know so far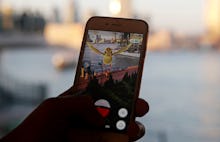 Has the Pokémon Go "Gen 2" release date leaked? In two days, Pokémon Go fans may see a massive release of brand-new Pokémon from the second generation of games. Or they may just get a branded coffee drink.
A document posted Monday evening to the Pokémon Go subreddit and purportedly leaked from Starbucks appears to brief employees about a new Pokémon Go promotion that begins on Thursday. Pokémon Go fans who want to see Gen 2 Pokémon added to the game are hoping that the Starbucks promotion portends good news.
Pokémon Go Gen 2 release date leak: Is the Starbucks document legit?
Mic's own Tim Mulkerin, a former Starbucks employee, believes that the document looks legitimate, based on the second page that explains how to prepare a "Pokémon Go Frappuccino Blended Creme" drink. The directions adhere to internal company language, and the chart follows the Starbucks standard formula for recipes, according to the ex-barista.
"Starbucks has nothing to share at this time," a representative for Starbucks told Mic. The web has decided to run with this rumor even without confirmation, largely because players are so desperate for new Gen 2 Pokémon.
Pokémon Go Gen 2 release date leak: New Pokémon coming with a December update?
Pokémon Go fans have latched onto the beginning of the supposedly leaked document as hope that Gen 2 Pokémon are on the way. 
"The world of Pokémon Go is about to expand with new Pokémon and a new Starbucks beverage," reads the document, which only concerns itself with said beverage for its remainder. "Starbucks is collaborating with Pokémon in their new update on Thursday, Dec. 8."
Because Starbucks declined in its purported training document to give further details about what "new Pokémon" means, fans are more than happy to fill in the blanks. The general consensus is that the Dec. 8 update to Pokémon Go  could be the long-rumored introduction of Gen 2.
If Niantic would give official word as to the progress of adding Gen 2 Pokémon to Pokémon Go, fans wouldn't have to read so far into leaks like these. Pokémon Go fans are getting salty about the lack of any official update.
Pokémon Go Gen 2 release date leak: How the Starbucks promotion will change the game
There is one concrete change to Pokémon Go that will support the Starbucks promotion. According to the leaked document, many Starbucks locations owned by the company (versus franchise locations) will appear as either a PokéStop or a gym in Pokémon Go. 
If the Starbucks-branded PokéStops spit out supplies like regular PokéStops, you might get some extra Pokéballs during the Starbucks promotion. But unless these gyms will be permanent additions to Pokémon Go, it's doubtful that the Starbucks promotion will have long-term effects on the game.
More Pokémon Go hacks, tips and tricks
If you'll be praying for Gen 2 Pokémon on Thursday, you may also want to check out Mic's Pokémon Go guides. Here's everything you need to know about finding the long-awaited Pokémon Ditto, creating new PokéStops, how to maximize your chances of catching Pokémon, the newest top attackers and defenders lists and fresh information about how PokéStops distribute Pokémon eggs.