Holiday gift guide 2016: The must-have vaporizers to get this season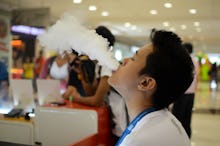 We're still months away from 4/20 — the unofficial holiday for weed lovers everywhere — but that doesn't mean you can't get your favorite marijuana-themed goods early and celebrate over the holidays. 
Read more:
Thanks to an increased push for marijuana legalization, which resulted in a number of approved pot measures this year, there's now more reason to smoke up than ever before. 
Whether you're a professional toker or merely a novice smoker, we've got a list of the best vapes on the market you'll need to keep the good times rolling. Or, if you're nice, the best gifts for the lovable toker in your life this season. 
Take a deep breath, clear your vision and check out our list of top picks below.
Uptoke Spyre vape: $299 
Weed enthusiasts can smoke up quickly and discreetly with Spyre's portable vaporizer, which boasts a 2.5-second reheating time and a battery that can last all day on one charge or 15 days on idle. 
The black and yellow beauty can vaporize a range of items — everything from oil blends to raw flowers — and comes with a five-year warranty, so you can puff and pass as much as they want without fear of mechanical failures.
Volcano Digit vaporizer: $500
The cone-shaped Volcano Digit Vaporizer could easily be mistaken for some kind of futuristic cooking gadget thanks to its sleek metal shell. 
The one-of-a-kind tabletop device is made from heat-resistant materials so users can control the smoking process and never have to worry about burning their bud. Vapor is also funneled into a cone-shaped balloon to heighten the inhaling process for users.
Plenty vape: $279  
"Vaporizer" doesn't do justice to the Plenty, an elaborate device by Storz & Bickel. 
The unconventional-looking system is designed for hand-held use and has an automatic shut-off feature to avoid overheating as well as stainless steel cooling coils, which results in fewer toxins and smoother tokes. 
Aurora vaporizer pen (with kit): $99.95
This magnetic pen takes rolling and smoking to a whole new level. Stoners on the go can easily fill up the device and swap between different strains with the push of a button.  
Fully magnetic connections make it easy to clean, and it's perfect for discreet users looking for the occasional hit at home or in public without drawing attention. 
This celebrity-approved vape is around for a limited time only and part of a collaboration with R&B singer The Weeknd.
It comes with anodized aluminium casing and includes a special engraving from the artist and yellow LED lights. Plus, it plays the hit maker's "The Hills" when powered up. Just like the company's standalone Pax 2 device, it features a complimentary maintenance kit and charging cables plus dock.
Editor's note: Prices and product availability are subject to change throughout the holidays.
Mic Essentials brings you handpicked deals, reviews, recommendations and gift ideas. If you buy something through a link on this page, Mic may earn a small commission.