Christmas cookie recipes 2016: Sugar, peppermint and other treats for the best holiday yet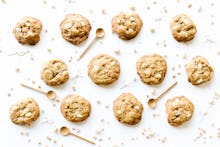 Christmas is coming and that means cookies. Cookies on cookies on cookies, and more cookies, of course. 
Bake up a batch of your favorite recipe, but switch it up this year with sweet and creative Christmas cookie recipes that will make your sweetest Christmas ever. 
Hot tip: Freeze some unused dough for a chilly January night when you're wishing it were Christmas again! Here are the best Christmas cookie recipes to make this year. 
Chocolate peanut butter stacks
There's no wrong way to to bake a Christmas cookie, and this marshmallow, peanut butter and chocolate cookie is no exception. Get the recipe here.
Toffee macadamia nut cookies 
Crisp, sweet and undeniably seasonal, bake a big batch of these nutty cookies, ideal for gifting. Get the recipe here.
Sugar cookie Christmas wreaths
These sugar cookies are much simpler to make than they appear and so much more impressive than store-bought sugar cookies. Get the recipe here.
Peppermint black and white cookies
This classic New York cookie and peppermint bark mash-up may be your new signature holiday sweet. Get the recipe here.
Toasted hazelnut slice 'n' bake cookies
Forget the rolled dough in the refrigerated aisle and easily make your own, to be baked and dipped in chocolate with toasted nuts, just as seasonal cookies should be. Get the recipe here.
Hot cocoa cookies
Why drink hot cocoa when you can eat it? These chocolate cookies topped with melted marshmallow and drizzled with chocolate can also be dipped into hot cocoa, of course. Get the recipe here.
Cranberry dark chocolate biscotti
Speaking of holiday beverages, stir this crisp Italian cookie into some warm eggnog for the ultimate fireside (or TV-side) treat. Get the recipe here.
Chewy ginger molasses cookies
Leave the crumbly gingerbread for the sugary houses and get your seasonal ginger fix with these soft and chewy cookies, which are only a little difficult to stop stuffing your mouth with. Get the recipe here.
Chocolate espresso thumbprint cookies
We're dreaming of a chocolate on chocolate on chocolate Christmas, and here it is! Get the recipe here.
Coconut snowball cookies
You'll make it a white Christmas with or without snow outside when you whip up a batch of these simple coconut and white chocolate cookies. Get the recipe here.
Healthy peppermint Oreo cookies
Give the gift of gluten-free sweets with these almond flour-based sandwich cookies. Get the recipe here.