Judge in Bill Cosby sexual assault case admits damning testimony from previous lawsuit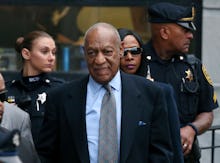 The prosecution in the case against Bill Cosby landed a win Monday after the judge in the comedian's upcoming sexual assault trial admitted damning testimony from years-old depositions in which he admitted to drugging and having sex with women — specifically, Andrea Constand, the defendant in the current case against Cosby.
The 79-year-old currently faces three felony counts of aggravated indecent assault for a 2004 encounter with Constand, who says Cosby gave her unmarked blue pills one evening when she visited his house. He allegedly violated her while she drifted in and out of consciousness. The depositions in question come from the 2005 lawsuit Constand filed against Cosby; in them, he describes his practice of giving women quaaludes, getting them "high" before having sex with them. 
He also acknowledges having given Constand pills, and describes what happened after:
"I don't hear her say anything," he said in a 2006 deposition, according to the Associated Press. "And I don't feel her say anything. And so I continue and I go into the area that is somewhere between permission and rejection. I am not stopped."
Cosby settled Constand's original lawsuit in 2006, and his defense team has argued that Cosby's testimony should be kept out of court when the current case goes to trial in June 2017. As USA Today reported, prosecutors allegedly told Cosby he would never be criminally charged when they deposed him a decade ago, but on Monday, Montgomery County Judge Steven O'Neill ruled that such a promise was never made. 
"This court concludes that there was neither an agreement nor a promise not to prosecute, only an exercise of prosecutorial discretion," he wrote, according to NBC.
The testimony is a boon for the prosecution, which is working to establish a behavioral pattern on Cosby's part: slipping women drugs to incapacitate them before initiating sexual contact. To that end, they are asking that 13 other women with similar stories be allowed to testify in court. According to the AP, the question of additional witnesses will be discussed next week.