'Travelers' Netflix release time: When and where to watch Eric McCormack's new show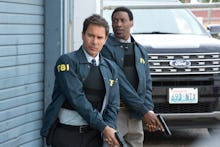 Eric McCormack's new time-traveling show, Travelers, will take you on a mission to save humanity. 
The exciting new sci-fi series will be released on Netflix on Friday, Dec. 23. The show follows the release pattern of previous Netflix series like Captive and Fuller House, so expect the series to be live on the streaming service at 3 a.m. Eastern.
Subscribers of the streaming service can watch Travelers on any of their Netflix-enabled devices. If you aren't a Netflix subscriber yet, you can sign up for a free one month trial. That is a lot of time to watch so many TV shows and movies. 
In Travelers, McCormack stars as Grant MacLaren, who leads a group of time travelers that are just a few of the remaining people left on Earth centuries into the future. Since they've figured out the key to traveling through time, it is up to them to go back to the 21st century to save the world from the future they've known. 
Travelers is from the mind of Brad Wright, the co-creator of Stargate SG-1, Stargate: Atlantis and SGU. Alongside McCormack, the cast includes Jared Abrahamson, Nesta Cooper, J. Alex Brinson, Reilly Dolman, Patrick Gilmore, Arnold Pinnock, Dylan Playfair, MacKenzie Porter and Ian Tracey.