Will 'Scream Queens' be renewed for Season 3?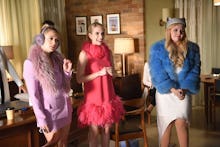 Season two of FOX's horror-comedy Scream Queens has been struggling in the ratings department all season long. 
The Ryan Murphy production has hovered around slightly more than 1 million live viewers on average, down significantly from its already less-than-impressive ratings from season one. The season-two premiere was down 41% in the 18-49 demo from its series premiere in 2015 and continued to fall, dropping another 50% in November to a series low of 1.15 million live viewers. 
It's not looking good for Jaime Lee Curtis, Emma Roberts, Lea Michele and company. With a reduced episode order — from 13 episodes in season one to 10 for season two — and struggling ratings for its sophomore season, this could be its last. 
While the ratings for the show's first season weren't overly impressive, FOX gave the show a second chance this year and boosted the celebrity factor. John Stamos, Kirstie Alley and Taylor Lautner joined the show as series regulars and Brooke Shields, Cecily Strong and Cheri Oteri made guest appearances.
Season two found Cathy Munsch opening a hospital after bowing out of her scholarly duties as dean of Wallace University. Munsch took in the Chanels as medical interns after the events of season one, but the group could not escape death. A new killer — or rather, killers — emerged to try to take down the Chanels once and for all.