The 10 best rock albums of 2016: From Bon Iver to Leonard Cohen and more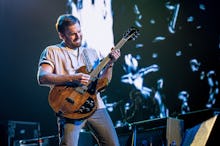 This year, with the passing of musical icons like Prince, David Bowie and Leonard Cohen, the rock world is missing several influential artists that helped shaped the genre's sound. 
With the return of fan favorites like Radiohead and final offerings from those who passed like Cohen and Bowie, the genre had a lot to offer this year. Here are the 10 best rock albums of 2016. 
Bon Iver, 22, A Million
Bon Iver's third offering, 22, A Million, was one of the year's most critically acclaimed albums. The album differed from what fans have come to expect from Justin Vernon and company, veering away from previous efforts like For Emma, Forever Ago and Bon Iver, Bon Iver. The more eclectic, edgier and more experimental sound is the band at their best and most daring yet.
David Bowie, Blackstar
One of several music icons we lost in 2016, David Bowie released his 25th studio album this year with Blackstar. The final album from the rock legend was released two days before his death on Jan. 10 and debuted at No. 1, making it the singer's first album to ever reach the top spot. On Blackstar, Bowie once again reinvented himself, and it is one of the singer's most evocative and moving rock albums, proving that the singer still had so much to offer 25 albums into his career.  
Radiohead, A Moon Shaped Pool
Radiohead returned once again this year with the band's ninth studio album, A Moon Shaped Pool. Thom Yorke and company pulled a Beyoncé and surprise-released the album for their fans on Mother's Day this year. Many critics called the album one of the band's best, noting that it might not be their most stylized offering to date, but it was as haunting and moving as we've come to expect. 
Sturgill Simpson, A Sailor's Guide To Earth
Sturgill Simpson shocked everyone this year, earning a surprising nomination for album of the year when the 2017 Grammy nominations were announced earlier this month. This was his first album released under a major label, Atlantic Records. Another genre-bending effort from Simpson, Sailor's Guide infuses soul, old-school rock 'n' roll and country.
Car Seat Headrest, Teens Of Denial 
Teens of Denial from Car Seat Headrest is a change sonically for the band and showcases Toledo at his most lyrical and indie-rock-leaning. It's some of their best work to date. 
The Lumineers, Cleopatra
The Lumineers' sophomore album, Cleopatra, is a subtle and simple indie-folk-rock offering from the band that shows significant growth since their first album. It still maintains some of the catchiness of the hit single "Ho Hey," from the band's first album, but with a more polished sound.
The 1975, I Like It When You Sleep, For You Are So Beautiful Yet So Unaware Of It
With their sophomore album, I Like It When You Sleep, For You Are So Beautiful Yet So Unaware of It, The 1975 debuted at No. 1 on the Billboard 200 albums chart. The album features a more ambitious sound for the band than we heard on their self-titled debut, and it paid off in terms of chart loves and critical acclaim, showing that The 1975 wasn't another flash-in-the-pan rock band. 
Mitski, Puberty 2
On Mitski's fourth studio album, Puberty 2, the singer-songwriter is at her most emotional and rich. Throughout the album's sound and themes, Mitski lays it all out for her listeners on tracks like "Happy" and "A Loving Feeling," mixing genres like indie rock and punk for something more eclectic than most released this year.
Nick Cave and the Bad Seeds, Skeleton Tree
Skeleton Tree was recorded after Nick Cave lost his son, Arthur, and the album is filled with that specific sense of loss, suffering and moving on that is hard to process. It's an incredibly raw and honest album that is moving from its first track to its last and gives fans a look at the process of dealing with grief.  
Leonard Cohen, You Want It Darker
Leonard Cohen sadly passed away in 2016 at the age of 82. The Canadian music legend released his 14th (and final) album this year with You Want It Darker. The album debuted in the Billboard Top 10 at No. 10 and received critical acclaim across the board. In Cohen's final offering before his death, the singer offers up an honest conversation about age, death and religion. It's sprinkled with that Cohen touch across all nine tracks and serves as a beautiful bookend to an outstanding career.