The 2017 Grammy nominations are surprisingly just as diverse as ever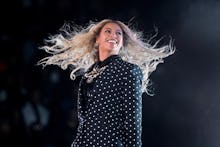 Considering the major musical releases by artists of color and women this year — Kanye West, Beyoncé, Drake, Adele — you might think that this year would mark a major sea change for the Grammys. The top music awards might finally shake off the perception that they have a race problem and produce a diverse slate of general field nominees that represents the current state of music.
Or they could just keep doing more of the same.
Somewhat shockingly, Grammy voters managed to produce a lineup of album, record and new artist nominees that is statistically virtually the same as they have over the last decade. Instead of choosing progress, the Grammys are choosing the status quo — which is disconcerting no matter what one thinks of that status quo.
Album of the year
The biggest category at the Grammys, album of the year, includes two female artists — Adele and Beyoncé — and two black artists — Beyoncé and Drake. We're talking specifically about black artists, and not other artists of color, because unfortunately, there have been few nonblack artists of color nominated for these awards. This is an alarming problem for the Grammys; any conversation about these awards' diversity must carry that caveat.
Those numbers mean the 2017 album of the year race is 40% black artists and 40% female. 2016's race, ultimately won by Taylor Swift's 1989, included 50% by black artists and 30% by women — Alabama Shakes is a mixed-race, mixed-gender group, so for lack of more elegant numbers, we'll count mixed groups as 50-50. 2015: 40% black, 20% female. 2014: 20% black, 40% female.
These aren't major variances, and in fact, the record over the last decade doesn't vary much. Over the last 10 years, 30% of the records nominated for best new album have been made by black artists, while 35% have been by female artists. That makes 2017's crop only marginally more diverse.
Record of the year and best new artist
Record of the year is a similar story. 2017's crop is 40% by black artists and 50% by woemn (thanks to Rihanna and Drake sharing credit for "Work"). Looking back at the last 10 years, the average among 51 total nominees has been 37% black and 48% female.
Best new artist does seem to be making some inroads; 2017's group is 40% black, compared to just 23% black in the last decade. For women, though, this year's 40% female crop is a bit of a drop from the last decade of nominees, 46% of which was made up of women.
To be fair, these stats aren't the whole story. For example, the five artists with the most nominations this year — Beyoncé, Drake, Kanye West, Rihanna and Chance the Rapper — are all black musicians. That's a significant figure, and speaks to how strong these artists are in the genre-specific categories.
But the consistency of these statistics indicates that Grammy voters are thinking similarly each year. To really progress and accept new artists, those voters will have to break out of this mindset and stretch themselves. So what if they know Carly Rae Jepsen best for "Call Me Maybe"? She was worthy of an album of the year nod for Emotion in 2016. This year, Kanye West likely did deserve consideration outside of the rap categories, despite how the Grammys have treated him in the past.
Change requires going outside the box. These nominees might be a great slate, but they are firmly within the status quo.
Mic is covering the Grammys. Please follow our main Grammy hub.