Michigan 2016 Recount Day 5: Broken machines raise questions in Detroit, Wayne County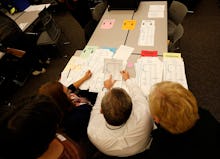 With a ballot recount proceeding in Wisconsin, officials in neighboring Michigan have hit a snag: One-third of precincts in the state's largest county could be disqualified from recount efforts, the Detroit News reported. 
Problems with voting machines led to inconsistencies between automated and human tallies of ballots in more than 600 precincts in Wayne County, home to Detroit. Most of these precincts are heavily Democratic. 
"According to state law, precincts whose poll books don't match with ballots can't be recounted. If that happens, original election results stand," the News reported.
"It's not good," Detroit's election directory told the News.
A Jill Stein-driven recount effort in Michigan aims to verify already certified election results in three states: Pennsylvania, Michigan and Wisconsin. Stein, the Green party's 2016 presidential nominee, successfully launched recounts in Michigan and Wisconsin; she is suing to force a recount in Pennsylvania. 
In all three states, there has been no evidence of any voter fraud on a scale that could alter the result of the 2016 election. Donald Trump won Michigan by 10,704 votes, out of 4.8 million cast, marking the first time a Republican's won the state since the 1980s. No recount in the U.S. has overturned a margin that large. 
The alleged need for recounts in these states was driven in part by concerns that hacking could have changed results recorded by electronic voting machines. In Wayne County, many decades-old voting machines jammed on Election Day and could have recorded false vote totals. Poll workers also failed to fix the discrepancies between hand and machine totals, the News wrote. 
If Clinton has a chance at making up her margin against Trump, it would likely come out of Wayne County. She beat Trump there by about 37 percentage points, and the hope among her supporters is that thousands of ballots in her favor could be found during a recount.