The alt-right is freaking out because Cartoon Network cancelled 'Million Dollar Extreme'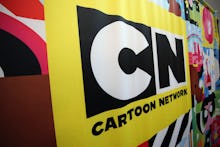 Cartoon Network's Adult Swim officially announced that it will be cancelling Million Dollar Extreme, a controversial sketch comedy show whose creator Sam Hyde drew criticism for his alignment with the alt-right, a loosely organized and mostly digital collective of far-right activists and white nationalists. 
The network has repeatedly come under criticism for airing the show, which has often tried to goad progressives through racist tropes — like the use of blackface — since it premiered in August.
Hyde also confirmed the cancellation in a later-deleted tweet reported by the Huffington Post hinting at forthcoming plans to pressure "Turner" — the Turner Broadcasting Company, which owns Adult Swim — into letting the show back on the air.
"Best way to get show back is to put pressure on Turner. I'll make an announcement vid soon, prob tmrw," Hyde wrote.
Hyde has brushed off his connections to the so-called alt-right — and its associated racism and sexism — by implying he doesn't know what it is in an interview with BuzzFeed: "Is that some sort of indie book store?"
But Hyde is known for trolling and frequently sharing some of the ideology's favorite conspiracy theories. On Monday, Hyde retweeted a post claiming that no children died in the 2012 Sandy Hook elementary school shooting.
That same day Hyde also offered, over Twitter, to add $5,000 to a bounty for evidence supporting a thoroughly false conspiracy theory involving a Hillary Clinton-backed child sex ring at a Washington, D.C., pizza parlor.
Fallout from that rumor has been serious: On Sunday, a North Carolina man showed up at the restaurant with an assault rifle to "self-investigate" the conspiracy theory.
Talent at Adult Swim have been lobbying network creative director Mike Lazzo to ax Million Dollar Extreme since at least last month, according to a BuzzFeed report.
Still, the network stood by the show for a time: Kim Manning, the network's senior director of programming took to Reddit last month to defend the program, arguing it was about "letting a different point of view, a voice that was upending things in a crazy, new way, have a shot."
Now the show's supporters, angry about the cancellation, have turned to internet forums like 8chan to register their displeasure and share anti-Semitic conspiracy theories about why the show was cancelled.
One post, for example, uses a racial slur to lament the fact that Jewish people have "ended what ray of hope there was for right-wing comedy."
Another attributes the cancellation to former Cartoon Network president Betty Cohen — even though in reality she retired from her position in June 2001, several months before Adult Swim had even debuted.
A post in a subreddit dedicated to supporters of President-elect Donald Trump shared the news Monday and called for a boycott of Adult Swim: It had garnered more than 4,800 upvotes as of noon on Tuesday.
This isn't the first proposed boycott inspired by progressive backlash to the alt-right.
Last week, Breitbart readers called for a "war on Kellogg" after the cereal company announced it would be withdrawing advertising from the news site because of a lack of alignment on "values."