'Dead Rising 4' PS4 Release Date: When is the Xbox One exclusive over?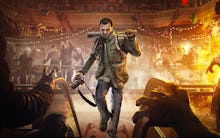 Dead Rising 4 is available now for Xbox One and Windows 10, but what about PS4? PlayStation fans are still waiting their turn for some zombie-killing mayhem, but we still don't know exactly when the Dead Rising 4 PS4 release date will be.
Dead Rising 4 PS4 Release Date: How long will we have to wait?
Microsoft first revealed Dead Rising 4 back at the Electronic Entertainment Expo in June 2016. However, we soon learned that the game was actually a timed exclusive, meaning it would eventually expand to competing platforms. In a statement to GameSpot, the company revealed that a PS4 version would be possible a full year after the initial launch.
"'Dead Rising 4' on Xbox One is developed by Capcom and will be published in partnership with Microsoft," the company said. "Fans will be able to play 'Dead Rising 4' first on Xbox One and Windows 10 PC this December. It will remain a Windows 10 exclusive for the first 90 days and console exclusive on Xbox One for one year."
Dead Rising 4 PS4 Release Date: There's a precedent for this
This isn't the first time Microsoft has scored a timed exclusive. By looking at previous launches on Xbox One and PS4 we can get a better sense of when Dead Rising 4 will expand to Sony's home console.
Microsoft did the same thing for Rise of the Tomb Raider. The game launched on Nov. 10, 2015 for Xbox 360 and Xbox One, but didn't arrive on PS4 until Oct. 11, 2016. So Sony fans could be waiting a while to play Dead Rising 4.
Then again, it might be even worse. Dead Rising 3 was an Xbox One exclusive for roughly 10 months after launching on Nov. 22, 2013. However, it still hasn't been released for PS4. So there's no guarantee the new game will ever expand to PlayStation either.
Dead Rising 4 PS4 Release Date: Other games on the horizon
PS4 owners may be waiting for a while to play Dead Rising 4, but there's plenty of other exciting games on the way. Sony recently revealed The Last of Us Part II and Crash Bandicoot N. Sane Trilogy, two upcoming releases that are sure to make Xbox owners green with jealousy.