Netflix 'Iron Fist' photos offer closer look at cast ahead of March 2017 release date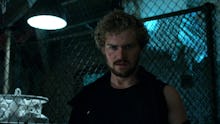 It has certainly been a great few years to be a comic book fan. Since the 2012 premiere of the CW's Arrow, there has been a massive resurgence of superheroes on television — including three more DC shows on the CW alone. Marvel has joined the fray as well with Agents of S.H.I.E.L.D., which is in its fourth season on ABC. Marvel also has a highly acclaimed collection of Netflix dramas including Daredevil, Jessica Jones, Luke Cage and the forthcoming Iron Fist, which just released new official images. 
Of course, those individual series will all be leading up to the Avengers-style team-up The Defenders, which is currently filming.
Before the Defenders can unite, Marvel must introduce the final piece of the puzzle: Danny Rand. Iron Fist will star Game of Thrones' Finn Jones as the titular character, and Rosario Dawson reprises her role of nurse Claire Temple from the previous three Marvel shows. Another Game of Thrones' alum, Jessica Henwick, will join the series as Colleen Wing, before reprising the role in The Defenders. 
Marvel has redefined action choreography. 
Marvel's Netflix shows have been lauded for, among other things, tremendous action choreography, most evident in Daredevil's first two seasons. 
With Iron Fist featuring Rand, a martial arts expert, there will likely be more epic fight scenes to tune into. Marvel showed off some of that action in a teaser trailer for Iron Fist at New York Comic Con a few months ago. Check out the trailer below:
New images give first look at Colleen Wing.
As for the new photos, they do not reveal much about the plot of Iron Fist (not surprisingly), but do show Danny teaming with Wing and Temple, as well as give us looks at siblings Joy and Ward Meachum played by Jessica Stroup and Tom Pelphrey, respectively. 
You can check out all the new images below: 
Netflix is set to release all episodes of Iron Fist's first season on March 17, 2017. It has not set premiere dates for Marvel's other in-production series, The Punisher and The Defenders. 
Mic has ongoing Iron Fist coverage. Please follow our main Iron Fist hub.